Pet health: How to pet proof for dogs and cats
Posted on November 1, 2010 under Pet Health & Safety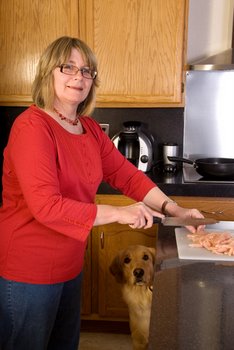 Posted by: H.R
Pets Best Insurance Editorial Manager
It doesn't take long after adopting your first kitten or puppy before you realize you must pet proof your home for the sake of pet health alone. Often, potential dangers are spotted instinctively as a new pet parent thinks like a spunky kitten or naughty pup. But there may be hidden animal attractions yet to be adjusted.
How to Dog Proof a Home
Dog's noses are their biggest asset and their biggest source of trouble. They don't discriminate much on smell; if it smells like anything, they'll eat it. All food must be stored in the refrigerator or high in cupboards.
Trash cans must be very cleverly hidden. Most dogs can figure out how to nose open a cupboard. Trash should be secured behind child-proof locks or inside a heavy-duty garbage can that doesn't easily open. Keeping the garbage in the garage is even better when you need to dog proof the kitchen.
The best way to keep a dog safe when he cannot be supervised is with crate training. Done right, dogs come to see a crate as their safe den. The crate can be associated with meal time, working up to nap time and away time.
Pet gates are also helpful for keeping dogs confined in safe zones. Pet safety gates are a wonderful investment that can be repurposed over the years, from potty training to sick days to times when repairmen or company are over. For big dogs and cats, two gates stacked together can prevent jumping.
How to Cat Proof a Home
When you cat proof your home, not only do you need to look at your home from down low, but you also need to look up. Cats can get into and onto just about anything, which can compromise pet health.
In an October 2010 Daytona Beach News-Journal article, author Jacque Estes highlights some of the most common dangers for cats.
"Cords of any kind, electrical and curtain, should be secured from the cat that likes to chew," she wrote in the article, "Tips To Make Your House Cat Proof."
Aside from chewing, cats also like to play with dangling cords, which can wrap around their necks or rip out a stuck claw.
Sorry, green thumbed cat lovers, but house plants and cats do not mix. "Cats jump, which makes few areas 'out of reach,'" wrote Estes. Even if care is taken to only fill the house with plants that are not toxic to cats, chances are they will feast too much on the foliage.
Breakables need to be secure. Cats may be graceful, but they can also gracefully knock over an antique vase with one swoop of the tail.
For both dogs and cats, caution should be used with chemicals brought into the home. Just because something smells strong doesn't mean a curious dog or cat won't try giving it a lick. Spray-on products used to freshen up the home contain chemicals that a pet will likely ingest. This can compromise pet health. There are safe, eco-friendly products that are just as effective.