Top six rooms to cat proof
Posted on May 18, 2012 under Pet Health & Safety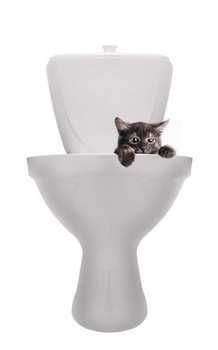 By: Dr. Jane Matheys
Associate Veterinarian
The Cat Doctor Veterinary Hospital
For Pets Best Insurance
Cats, especially kittens, can be very curious, and we've all heard the saying "Curiosity killed the cat." There can be many temptations and hidden dangers lurking around your environment that you may be unaware of, so take measures to protect your cat from harm around your house. Even if you're the most meticulous cat owner, there are still many hidden dangers within your home. This is one of the many reasons I suggest cat insurance to my clients. Here are some tips for cat proofing your home one room at a time.

Or Call 877-738-7237 to speak with a Pets Best Insurance Agent to Add a Pet to Your Current Policy
It may sound silly, but the best way to begin cat proofing is to get down on your hands and knees and survey each room– similarly as you would to prepare for a toddler. You'll suddenly notice things from your cat's point-of-view, and it may help you pinpoint potential hazards that you might not see if you were standing up.
Kitchen/Bathroom
Place potentially-dangerous items like medications, cleaners, laundry supplies and chemicals on high shelves or in cabinets with childproof locks. NEVER give any medications to your cat without first consulting your veterinarian. Over-the-counter products like Tylenol can easily kill cats. Never treat your cat with flea products or dips meant for dogs. These are too strong and could be fatal.
Close toilet lids to prevent kittens from drowning and to keep cats from drinking the water, especially if you use automatic toilet bowl cleaners.
Keep your trash cans covered or stowed away to prevent cats from ingesting things such as moldy items, toxins and chicken bones. Know what food products are toxic to cats and keep foods out of reach.
Keep mousetraps, mouse poison and ant poison away from a cat's access. Know what a product's active ingredient is and potential toxicity for cats.
Cats like to nap in warm, dry places. Shut all doors to washing machines, dryers and dishwashers to avoid trapping the cat when you turn on the appliance.
Living Room/Family Room/Bedroom
Cover exposed electrical cords or outlets to prevent burns and electrocution as the result of chewing. Place dangling wires from lamps, TVs, stereos and telephones out of reach. Tie up drapery pulls and cords on window blinds.
Keep toys and games off the floor, especially those that contain small pieces that can be chewed and swallowed by cats. Put away any craft supplies. String, thread, ribbon and the like can be very dangerous for cats if swallowed. Foreign body ingestion is among one of the most frequent and expensive cat ailments to treat. Because there can be so many hazards, it's always a good idea to have a pet insurance policy for your kitty. You can compare pet insurance online and decide which plan will be the best for your budget and your cat's needs.
Be mindful of plants that you bring into your home. Lilies are especially toxic to cats. Speak with your veterinarian to find out which plants are toxic to your cat.
Use candles with great caution around cats, particularly if the candle is on top of a tablecloth. A cat may attempt to climb up the tablecloth and bring the burning candles to the floor, creating a fire hazard for the whole household.
Check your window screens. You may be surprised to find that some screens can pop out with almost no effort. A cat that goes out of an upstairs window could be injured in the resulting fall.
Keep any medications, lotions, or cosmetics off accessible surfaces like bedside tables.
Garage/Yard
Wipe up spills of anti-freeze, gasoline, oil, fertilizers or insecticides immediately. Anti-freeze in particular may be tempting to a cat because it is sweet-tasting, but even the smallest amount can be lethal. Keep these products in a locked shed or at least off the floor.
Thump on your car hood before starting your car in cold weather. Many a cat has suffered fatal injuries from sleeping in a warm engine compartment.
Fertilizers should be used carefully and sparingly. Keep cats out of the yard for at least 24 hours after any kind of chemical treatment. Do not use insecticides or lawn products around your cat before knowing their potential for toxicity.
Keep your yard and garage free of sharp tools and objects.
Take some time this weekend to cat-proof your home. It's a simple and inexpensive way to keep your furry family member safe and happy. Despite your best efforts and vigilant care, though, accidents may still happen. That's why it's always a good idea to research companies that provide cat and dog insurance.