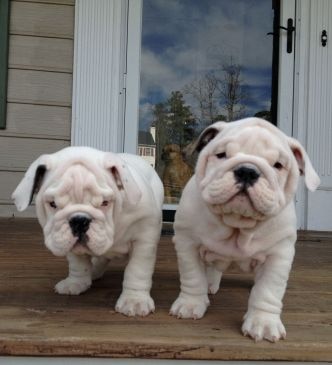 By Dr. Marc, a veterinarian and blogger for pet insurance provider Pets Best Insurance
About English Bulldogs
Height (to base of neck): 12 to 14 inches (Males and Females)
Weight: Males 50 lbs, Females 40 lbs
Color: Brindle, white, red, fawn and spotted
Origin: British Isles
Coat: Short, flat, straight and glossy
Life Expectancy: 10 to 12 years
Exercise needs: low to moderate
Is this breed right for you?
Common attributes in the Bulldog include a stubborn nature, but they are also kind and gentle with children and other pets.  They have low to moderate exercise needs and can be suited to urban, even apartment living.  Snoring and drooling is common.  Grooming needs are low except skin folds require daily hygiene to prevent infection.  They are moderate shedders.  Bulldogs do not tolerate temperature extremes well and does best as an indoor pet.
5 common illnesses, medical conditions and accidents for English Bulldogs
According to the number of dog insurance claims Pets Best receives
| | | |
| --- | --- | --- |
| Medical Issue |  Avg. Claim Amount |  Most Expensive Claim |
| Skin Allergies |  $853 |  $9,311 |
| Cherry Eye |  $707 |  $3,990 |
| Cruciate Ligament Injury |  $2,343 |  $6,661 |
| Skin rashes and infections |  $292 |  $3,533 |
| Ear Infection |  $231 |  $4,619 |
More Pictures of English Bulldogs
Above photo, Nine week old bulldog puppies named Herschel and Hal. Photo submitted by Felicia A.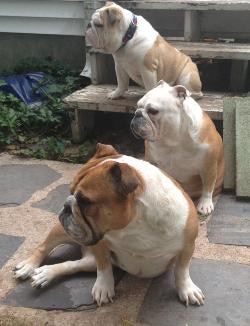 Bulldogs Cannoli, Bagel and Muffin sit together outside. Photo submitted by Ellen S.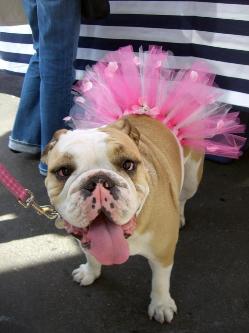 A bulldog rocking her pink tutu. Photo submitted by Nichole W.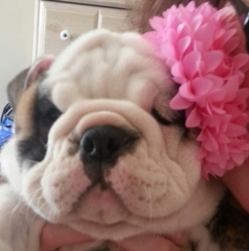 A sleepy puppy bulldog with a fancy flower in her hair. Photo submitted by Paige M.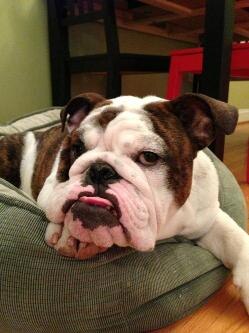 A bulldog sporting his best under bite.

Protect Your Bulldog with Pets Best Insurance!

Get a Quick, Free Quote Online
or Call Pets Best at 877-738-7237