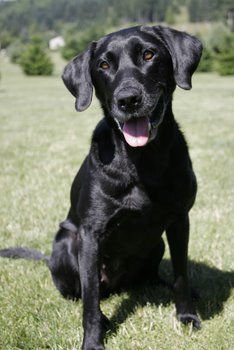 By: Cera Reusser
Guest Blogger
For Pets Best Insurance
My name is Cera Reusser and this story is about my dog "Chase" and the importance of pet insurance. One evening when I was giving her and my other dogs their night time loving, I found a lump under Chase's chin. In just ten short days, I went from finding out the lump was cancerous to losing her to Nasal Carcinoma. And she was just six years old.
I knew it was possible for dogs to get cancer because six months prior to losing Chase, two of my good friends also lost their dogs to cancer. One was only two years old and the other was 10. But I never thought it would happen to me or my girl Chase.
In those 10 short days I learned more about cancer than I ever wanted to. I also learned that fighting cancer can be less costly if it's found early. Sadly we didn't find Chase's cancer in the early stage. Our bill quickly reached $3,000 before we'd even really had a chance to start fighting. One of the only good things about Chase's story is that through all of this I did have pet insurance. Losing my girl left me heartbroken but it would have been worse if we were without pet health insurance because we would have lost our girl, and still be expected to pay a huge bill– that would serve as a sad reminder.
Right after the loss of my girl, with the support of friends, I was able to put my heart back into my work. That is when I started the "Chase Away K9 Cancer" fund. In just over five years, nearly half a million dollars has been raised by volunteers across the US and Canada to help fund K9 cancer studies and to raise K9 cancer awareness. To date ten studies have been funded through these efforts with more fundings on the horizon.
One of the most important things that we promote at Chase Away K9 Cancer is our "Check Your Dog Day" campaign. On the 14th of every month we ask everyone to give their dog that special night time loving, which is a complete nose to tail exam. Go over them thoroughly, look in their mouths and their ears, feel all over their bodies for any lumps and bumps and if you find anything out of the norm please, please go and see your vet. If detected early, cancer is treatable.
I'm happy to report that since we started the "Check Your Dog Day" campaign we receive notes and calls from people letting us know they found lumps– but in most cases, because it was found early, their dogs can be treated. From time to time, we do still get word that yet another wonderful dog has been lost to cancer.

Or Call 877-738-7237 to Add a Pet to Your Current Policy
Currently the odds of a dog getting cancer are 1 in 3. If the dog is over age 10, those odds go to 1 out of every 2. Our goal is that someday those odds will be none in 3.
Please join us in our fight to help our dogs live longer and healthier live. Visit chaseawayk9cancer.org to make a donation. We are completely volunteer-run and all donations go to fund K9 cancer studies and to raise K9 cancer awareness. Please also purchase pet insurance. So many of my friends and myself have found it to be one of the most important insurances that we have. My girls mean the world to me and pet health insurance will help me provide the best pet health care to them so that I get the chance to see them enjoy their old age.