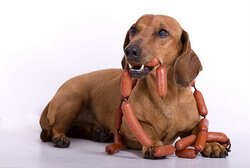 Dr. Kristen Yee is growing concerned about the pets she's seeing coming into her practice.
Yee, a veterinarian at California Animal Hospital in Los Angeles said more and more pets are not only a little overweight—but obese.
"We are seeing so many overweight dogs and cats, and it's sad because their weight levels are completely manageable with diet changes," she told CNN.com.
Yee said many of the pets she's seen have severe respiratory, cardiac, metabolic and orthopedic dysfunction that is drastically worsened by just being obese.
According to MSNBC, just like people, obesity-related-diabetes is on the rise in our furry friends.
Robin Downing, the hospital director of Windsor Veterinary Clinic in Windsor, Colorado told the news source that she too has no doubt diabetes is becoming more prevalent in pets.
"There is no question from what I know that is published in the literature that obesity is on the rise, No. 1, and No. 2, diabetes is on the rise right along with it," she told MSNBC.
Diabetes results when the body doesn't produce enough insulin or properly use it, the news provider reported. The result is that body tissues can't use glucose for energy and it builds up in blood and urine.
CNN.com suggests a few simple ways to determine whether your pet is overweight and in danger of developing diabetes:
Run your hands over your pet's chest. You should be able to feel their ribs but not see them.
Look down at your pet while standing directly above them. Your pet should have what resembles a waist that pulls in slightly in front of their hips.
According to Pet Nutritionist Susan Davis, pet's weight problems are easily detected and even more-easily rectified.
Davis told the news provider that portion control, (the amount of food given) quantity control, (how often it is given) and increased exercise are all relatively simple fixes.