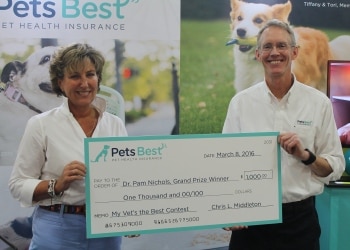 2015 My Vet's the Best grand prize winner to provide funds for service animals in need.
Boise, Idaho – Pets Best Insurance Services, LLC, a leading U.S. pet health insurance agency, has named Dr. Pam Nichols as the 2015 grand prize winner of its nationwide My Vet's the Best contest. Dr. Nichols runs the K-9 Rehab Center, the only certified animal rehabilitation center in the state and practices at the Animal Care Center in West Bountiful, Utah.
In 2010, Pets Best became the nation's first pet insurance agency to develop a contest aimed at recognizing the country's best veterinarians. Each year, hundreds of veterinarians receive nominations from pet owners all over the U.S., and voting for each season's winner is held via Pets Best's Facebook page. Grand prize winners are then selected by a review panel composed of respected fellow veterinarians. In addition to a $1,000 grand prize, each year's winner receives a paid trip to the Western Veterinary Conference (WVC) in Las Vegas.
During the March 2016 WVC, Chris L. Middleton, president of Pets Best, announced Dr. Nichols as the winner of the 2015 My Vet's the Best title and presented her with a check for $1,000 to support her charitable work. "There are so many animals that need our help," says Nichols. "And thanks to these funds, we'll be able to do even more in our community—all because a client submitted a nomination."
Dr. Nichols, whose aunt was also a veterinarian and her "hero" during childhood, plans to use the contest winnings to continue to provide cost-free veterinary treatment to animals injured during public, police, or military work, all via the K-9 Rehab Center. She developed the center after earning her rehabilitation certification in 2004, and has served as a nationally recognized speaker on the importance of rehabilitation in veterinary medicine.
"Dr. Nichols deserves this recognition from the veterinary community for many reasons," said Dr. Jack Stephens, founder and director of Pets Best. "Not only is she continuing a powerful family legacy of helping animals in need at her clinic, but her philanthropic efforts with the K-9 Rehab Center directly impact her local community. And, as she trains and mentors aspiring veterinarians, Dr. Nichols is helping pass the torch to our industry's next generation of veterinarians."
As Dr. Nichols learned from her aunt, who practiced veterinary medicine for 20 years, the value of her profession extends beyond the clinical. She believes in "making a difference"—by building lifelong relationships with her staff and clients. "I want to be able to say I've made the world a better place," she says. "And not just by what I did, but by the people I trained and taught."
For more information about Pets Best and the My Vet's the Best contest, visit www.petsbest.com/vetpromo.
To read more about Dr. Nichols and her nomination, visit www.petsbest.com/blog/my-vets-the-best-finalist-dr-pam-nichols/.
About Pets Best Insurance Services, LLC
Dr. Jack L. Stephens, founder of Pets Best, started pet insurance in the U.S. in 1981 with a mission to end euthanasia when pet owners couldn't afford veterinary treatment. Dr. Stephens went on to present the first U.S. pet insurance policy to famous television dog Lassie. Pets Best provides coverage for dogs and cats. Dr. Stephens' passion for quality pet care and his expert veterinary knowledge guides the Pets Best team. He is always available to answer questions regarding veterinary medicine, pet health and pet insurance. The Pets Best team is a group of pet lovers who strive to deliver quality customer service and value. Visit www.petsbest.com for more information.
Pet insurance coverage offered and administered by Pets Best Insurance Services, LLC is underwritten by Independence American Insurance Company, a Delaware insurance company. Independence American Insurance Company is a member of The IHC Group, an organization of insurance carriers and marketing and administrative affiliates that has been providing life, health, disability, medical stop-loss and specialty insurance solutions to groups and individuals for over 30 years. For information on The IHC Group, visit: www.ihcgroup.com. Additional insurance services administered by Pets Best Insurance Services, LLC are underwritten by Prime Insurance Company. Each insurer has sole financial responsibility for its own products.
Pets Best is a proud member of the North American Pet Health Insurance Association (NAPHIA).
###