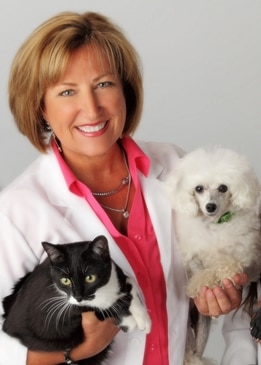 Each year, Pets Best receives thousands of nominations for our annual My Vet's the Best Contest—a contest developed to acknowledge the best veterinarians around the nation. This year, we've again completed the arduous process of selecting a group of finalists and we are pleased to announce the top seven.
Meet Dr. Pam Nichols. After earning her doctorate in veterinary medicine from Colorado State University in 1996, she opened the Animal Care Center in West Bountiful, Utah. She was awarded American Animal Hospital Association (AAHA) certification that same year, and in 2001, Animal Care Center won the Veterinary Economics Practice of Excellence Award. In 2006, Dr. Nichols was also honored with the Spirit of the American Woman Business Owner of the Year award.
Dr. Nichols is a nationally recognized speaker on the importance of rehabilitation in veterinary medicine. After earning her rehabilitation certification in 2004, she opened the K-9 Rehab Center. She now divides her time between rehabilitation and general veterinary medicine.
When not nursing her patients back to health, Dr. Nichols enjoys spending time with her 19-year-old daughter, Elaine, and her many dogs and horses. She also devotes her free time to her garden, where she finds great joy in harvesting and preparing its yield of fresh vegetables.
What do you enjoy most about being a veterinarian?
EVERYTHING! The relationships with clients, the relationships with their pets (I love when a dog or cat loves me and recognizes me either at the hospital or out and about). I love the variety of my daily experiences, and I love that I learn something new every day. I also love my work on and in the American Animal Hospital Association. It is incredibly rewarding to give back to an organization that has done so much to help me create a great hospital.
What makes you unique in your field?
I wear nice shoes? OK, honestly, most of us vets care a great deal about our patients. I think I just truly love my clients. I treat every client as if they were my family. The best feeling I strive to create is for every client/patient to feel that their pet is the most important one I have seen all day.
Do you talk to your clients about pet insurance?
Yes, every day, and during almost every visit. I believe it allows me to be a better vet.
What does it mean to you to be nominated for this award?
It is a fantastic compliment to know that a client thinks enough of me to take the time to make the nomination!
What would you like to say to your clients and community who nominated and voted for you?
THANK YOU! And oh, by the way, I will always try to live up to expectations!
If you win the contest with the most votes, how do you plan to use your $1,000 prize?
We have an in-house fund that takes care of needy clients and their pets. In fact, we used it just today for a client who trapped a homeless neighborhood kitty with a bad eye injury. We paid for half the bill to get him back on his feet and out of pain.
Fun Pet Fact:
Dr. Nichols has what she calls a "menagerie" of pets: two standard poodles, plus she co-parents another poodle and a chihuahua. Her brood also includes horses, one russel rabbit and several chickens: six Rhode Island red hens, two barred rock hens, and five bantam rescue chicks.
If you enjoyed reading about Dr. Nichols, we invite you to stay tuned to our blog, where we will be sharing the in-depth Q&A sessions we held with the remaining finalists. To learn more about the My Vet's the Best Contest, click here. You may vote for Dr. Nichols or any of the other finalists once a day through July 23rd, 2015 on the Pets Best Facebook page.