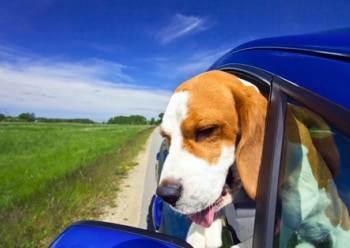 By Arden Moore, a certified dog and cat behaviorist with the International Association of Animal Behavior Consultants. Arden guest blogs for dog insurance provider, Pets Best Insurance.
Recent surveys indicate about 29 million people travel with their pets each year and that number continues to grow.
When hitting the road with your pet, however, pay attention to the weather. Extreme hot or cold can impact your decision to have your dog join you. Never leave your dog alone in your vehicle during warm weather. Not even for just a few minutes. Even if you crack the windows a bit, the temperature inside your car climbs quickly and your dog can develop heat stroke and die.
When traveling with your dog in the hot weather, make sure the air conditioning is on. Consider attaching a small battery-operated fan to your dog's crate for added ventilation. Bring extra water and look for the key sign of dehydration: your dog's tongue is wide, red, and dry.
During cold weather, coat your dog's pads with a layer of petroleum jelly to protect them from harsh ice and salt.
Get Our FREE Monthly eNewsletter!
To prevent your dog from developing an upset stomach on your road trips, stick with his regular food and wait to serve his main meal when you reach your destination. To protect dogs who love sticking their heads out windows, fit them with protective eye gear like Doggles so dirt and other debris can't lodge in their eyes.
Here's a handy road trip checklist to make the adventure fun and safe for your dog:
· First, secure your dog inside a crate or canine harness that snaps into the seat belt buckle and be sure to bring:
· An extra leash, collar, and ID tag
· Bedding
· Bottled water and bowl
· 1-2 days supply of food and treats in sealable storage containers
· Copy of your dog's health record, including vaccinations
· Contact information, including your veterinarian, your information and a backup person's phone number
· Favorite toy and chew item
· A minimum of a one week's supply of medications and supplements
· Grooming tools, including brush, comb and lint removal product
· Cleaning items, including paper towels, moist towelettes, and disinfectant spray
· Extra doggy poo bags
· Flashlight
· Don't forget pet insurance! With Pets Best Insurance you can visit any licensed veterinarian in the world. So your dog will be covered no matter where your travels take you.

Get a Quick, Free Quote Online or Call Pets Best at 877-738-7237