Tips to keep your pet safe during travel
Posted on November 2, 2010 under Pet Health & Safety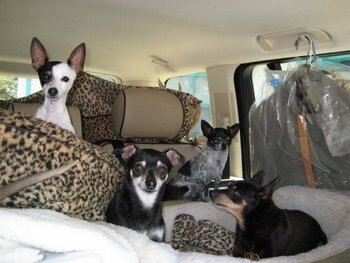 Before embarking on your cross-county trip to visit family this holiday season with Fido or Fluffy in tow, there are things you need to do to make the trip pleasant for everyone.
Traveling with pets can be a fun experience if proper planning and preparation are done beforehand. Make your next trip with your pet a memory you want to remember, not a trip you want to forget.
For the safety of your pet as well as your human passengers, your pet should be secured when traveling. Dogs can be secured using dog car crates or by using special harnesses or tethers that are made to attach to the seatbelt to keep the dog secure. Cats should always be kept in pet crates or a cat carrier while traveling in a car. A carrier will prevent the cat from getting under the driver's feet and possibly causing an accident.
Do not place pets in the front passenger seat of vehicles with an airbag. In case of an accident, the force of airbag deployment could severely injure your pet. It is a good idea to consider researching and purchasing the best pet insurance for your pet prior to traveling. It is also important to never leave pets unattended in a car as they can become overheated, too cold, or they can injure themselves trying to get out of the car.
If your dog is not accustomed to riding in the car, you will want to take him on several shorter rides to make sure he is comfortable beforehand. Going on shorter car rides will also allow you to know if your pet gets car sick. If you find that your pet does get car sick, your veterinarian can prescribe medication that will help with car sickness. If you happen to have cat insurance or dog insurance with Pets Best Insurance, some medications may even be covered if they're FDA approved.