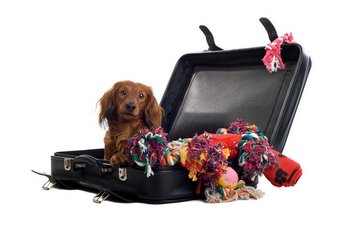 When traveling with pets, you will want to make sure that the place you plan to stay is pet friendly.
Whether you are staying in a hotel, renting a cottage, roughing it at a campground or anything in between, you'll want to ensure that they will accommodate both you and your pet. There are several things you should consider when choosing a pet-friendly place to stay.
There are numerous websites that offer listings of pet-friendly lodging. You can search listings for places to stay along your travel route and places to stay once you've reached your final destination. It is important that you call the place you are considering to ensure that the information listed is accurate. Also consider the following tips when finding a pet-friendly place to stay:
•When calling, ask about any restrictions they may have on the size of your pet or even the number of pets you can have. Some facilities have weight and shedding restrictions.
•Ask about the pet fee. Some places allow pets to stay free of charge while others charge by the night. Also ask if a pet deposit is required and if it is refundable or non-refundable.
•You will want to ask about what pet amenities are offered. Amenities range from complimentary treats and bowls to pet menus for room service and dog sitters.
•Find out if there is a designated area where you can walk your dog or if there is a dog park nearby.
•Make sure that you have reservations for you and your pet as some places have a limited number of pet-friendly rooms available.
A few minutes of research before traveling with your pet will ensure you're prepared for the voyage ahead. When traveling, it is also a good idea to scout out local veterinarians in advance, and make sure your pet insurance is up-to-date. Some companies, like Pets Best Insurance even offer a vet locator service on their website.