By Chryssa Rich, Marketing Programs Associate for pet insurance provider, Pets Best Insurance
Before joining Pets Best Insurance, Patricia worked as a vet tech at an emergency clinic. Last Labor Day weekend, a Good Samaritan brought in a cute little dog who was badly injured – most likely the result of having been hit by a car.
When injured dogs and cats come in without owners, veterinary staff typically keep them as comfortable as possible while trying to locate the owners and determining how much treatment can be afforded. But when no microchip was found on this little guy, Patricia felt she had to step in. "His little face was just riddled with pain. Since no one was claiming him and I couldn't stand to see him like that, I asked if I could take responsibility so he could have medical care," she explained. She named him Moe, due to the Mohawk of fur that runs down his back.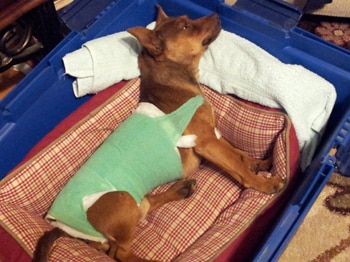 Moe recovering in his new home.
The diagnosis was a fractured vertebrae and partial paralysis. Patricia and the veterinarian fashioned a back brace from left over materials after another procedure, and Moe went home with Patricia. He recovered in the makeshift brace for 8 weeks. Eventually, the broken part of his vertebrae calcified enough for him to move around safely without any support.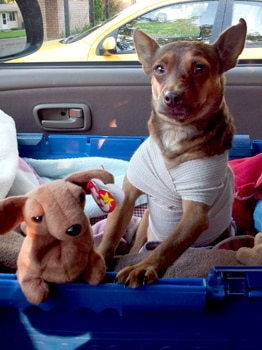 On medication and feeling much better.
Patricia then had Moe neutered and vaccinated, and she ordered his wheelchair. "He was wheeling around the house within one minute of me getting his chair fine tuned!" Patricia remembers. "A friend built him ramps so he can come and go through the back door and get on and off all levels of the back deck."
Today, Moe is very independent and chases squirrels like any dog with four working legs. He's a regular at the pet-friendly Pets Best Insurance offices, where he has an adorable morning ritual:
Pets Best Insurance plans include coverage for wheelchairs and prosthetic devices, and our My Vet's the Best contest awards thousands of dollars annually to veterinary rainy day funds, to help cover treatment for needy pets.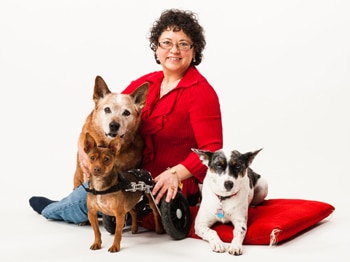 Patricia with her kids, Skippets Red Drover, Moe and Trixie (annoyed the photographer was teasing her with a toy.)