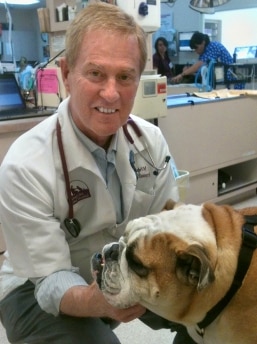 Dr. Dennis Arn selected as winner of My Vet's the Best Contest, receives $1,000 to treat animals in need
BOISE, Idaho – Pets Best Insurance, a leading U.S. pet insurance agency, announced today that Las Vegas veterinarian Dr. Dennis Arn has been selected as the most recent winner of the company's nationwide My Vet's the Best contest. Arn, who has strived to transform Desert Inn Animal Hospital into an elite animal medical center, won the contest for outstanding veterinary service after receiving more than 45 percent of the online votes cast by thousands of people through the Pets Best Insurance website, www.petsbest.com, and the company's Facebook page.
Arn was among hundreds of veterinarians nominated for the quarterly award, which Pets Best created to honor veterinarians who go above and beyond to keep animals healthy. Arn was nominated for the prestigious award by a decades-long client who touted Arn's willingness to treat pets when their owners cannot afford procedures, in addition to his innovative utilization of stem cell therapy.
Arn, who bested five other contest finalists in a public vote, received $1,000 from Pets Best to treat animals in need. The pet owner who nominated him for the award received $200.
"We created the My Vet's the Best contest to spotlight exceptional veterinarians who work tirelessly to keep pets healthy and promote the advancement of animal treatment," said Dr. Jack Stephens, president and founder of Pets Best Insurance. "Pets Best Insurance is proud to recognize veterinarians like Dr. Arn who share our company's commitment to pet health. He has improved the lives of so many animals with his clinic's advanced treatment methods. Beyond that, he is a true animal lover who has made sacrifices and waived payments throughout decades of healing families' beloved animals."
Arn is a 1977 graduate of the University of Missouri's College of Veterinary Medicine. He began his career at Desert Inn Animal Hospital in Las Vegas immediately after graduating, and he took over the practice completely in 1980. Throughout the years, Arn has endeavored to provide the most comprehensive veterinary services at his clinic, including offering 24-hour care, providing MRIs, ultrasounds and surgeries, pursuing stem cell therapy and creating the International Canine Semen Bank of Nevada within the animal hospital.
Arn plans to invest the contest prize money in his clinic's Little Angel Fund, which helps low-income pet owners pay for veterinary care.
"We often see families who are torn because they can't afford treatment for the pets they love. Everyone at the Desert Inn Animal Hospital is eager to find a way to help them," Arn said. "I'm just grateful that Pets Best supports these kinds of efforts with its contest and provides such a generous donation to care for animals in need. I hope the competition also helps boost awareness of pet insurance, which too few people are aware of as a resource to help them afford complicated veterinary procedures."
In 2010, Pets Best Insurance became the nation's first pet insurance company to develop a contest aimed at recognizing outstanding veterinarians. Each year, hundreds of veterinarians receive nominations from grateful pet owners. While voting for the contest's quarterly winners is open to the public through the Pets Best Insurance website and Facebook page, each year's grand prize winner is selected by an internal review panel composed of respected veterinarians.
"There are so many stories left to share of veterinarians who have changed the lives of families by healing their pets," Dr. Stephens said. "We encourage pet owners across the nation to continue nominating their trusted veterinarians."
For more information about the My Vet's the Best contest, visit www.petsbest.com/vetpromo.
About Pets Best Insurance
Dr. Jack L. Stephens, president of Pets Best Insurance, founded pet insurance in the U.S. in 1981 with a mission to end euthanasia when pet owners couldn't afford veterinary treatment. Dr. Stephens went on to present the first U.S. pet insurance policy to famous television dog, Lassie. Pets Best Insurance provides coverage for dogs and cats and is the only veterinarian founded and operated pet health insurance company in the United States. Dr. Stephens is always available to answer questions regarding veterinarian medicine, pet health and about pet insurance. Visit www.petsbest.com for more information.
Pet insurance plans offered and administered by Pets Best Insurance are underwritten by Independence American Insurance Company, a Delaware Insurance company. Independence American Insurance Company is a member of The IHC Group, an insurance organization composed of Independence Holding Company, a public company traded on the New York Stock Exchange, and its operating subsidiaries. The IHC Group has been providing life, health and stop loss insurance solutions for nearly 30 years. For information on The IHC Group, visit: www.ihcgroup.com. In states in which Independence American Insurance Company's new policy form has not yet received regulatory approval, Aetna Insurance Company of Connecticut will underwrite policies. Each insurer has sole financial responsibility for its own products. To determine the underwriter in your state, please call Pets Best at 1-866-929-3807.
Pets Best Insurance is a member of the North America Pet Health Insurance Association (NAPHIA).
###