Posted by: H.R.
Pets Best Insurance Editorial Manager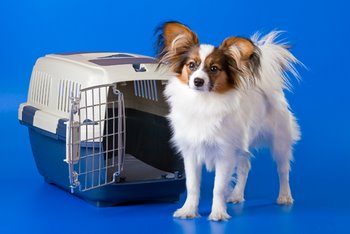 With the holiday season upon us, more pet owners will be traveling with their pets in tow. Aside from knowing the safety basics and ensuring your have pet insurance "just in case," the following are some tips that can help when traveling with pets by air.
When traveling by car is not an option, you may choose to fly with your pet. Check with the the airline that you plan to fly with and get the rules and regulations they have concerning pets traveling. Pet travel by air can be a pleasant experience for you and your pet if you take the proper precautions when planning your trip.
Before your flight you will want to have your pet checked out by your veterinarian to make sure he is healthy enough to fly. Your veterinarian will also check to make sure that your pet is up-to-date on any vaccines that are needed to fly. Airlines require a health certificate from your vet stating that your pet is up-to-date on his vaccines and is healthy enough to fly.
When traveling by air, your pet will have to stay in a pet crate for the duration of the flight. Small dog carriers are available in an array of styles to keep your dog safe. If your dog is too large to ride in the plane with you, he will have to ride in the cargo area. When choosing large dog crates for flying, be sure that they are certified for air travel.
Make sure that your dog has a collar and identification tags prior to travel. It is also a good idea to put identification information on the crates themselves.
Always keep a leash with you so that you are able to safely walk your dog before and after the flight. In addition to keeping a leash with you, it is a good idea to have a picture of your dog with you in case he gets lost during your travels.