If your pet is an outside-only pet, or is outside the majority of the time, here are four tips to keep your outdoor pet safe and warm this winter.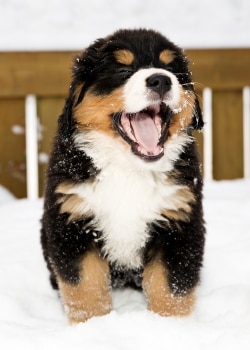 1. Housing
First, it is important to provide proper shelter from the elements this winter. This includes proper housing with warm, dry, clean bedding. Housing should provide a full wind-break, have a waterproof roof and be large enough for your pet to stand up and turn around inside.
2. Warming Pads
Warming pads can be installed in dog houses, but proper maintenance is important to prevent electrical burns on pets.
3. Fresh Water
All pets should have access to fresh water at all times, which means checking those outdoor water bowls several times a day when temperatures drop below freezing.
4. Proper Nutrition
Pets should also have access to proper nutrition. Outdoor pets will need to eat more calories in the winter than in the summer.
Consult with your pet's veterinarian to ensure it's safe for your pet to be an outside-pet during winter, and regarding your pet's nutrition needs. By following these guidelines, you'll help keep your outdoor pets safe and warm this winter!