Pet insurance provider, Pets Best Insurance, recently asked dog owners what they'd buy for their dog if they had an extra $100. The number one answer? A dog bed.
So Pets Best asked Phuong Phillips of P.L.A.Y. pet products, for her top tips when purchasing a dog bed.
1. Durability
Like all products, owners should look for a pet bed that is high-quality and made to last. While it's easy to find a cheap pet bed, there's a good chance you'll go through those just as fast as you go through treats. Poor craftsmanship and low-quality materials can require frequent replacement. Make sure you check out what the filler is made out of; often times it isn't washable. If you've had a pet before, you've smelled the wet-dog scent, seen the muck your pet drags in, and know that accidents can happen. Additionally, most dogs shed, and some shed a lot! Look for a pet bed that is 100% washer and dryer friendly and made with durable materials meant to last.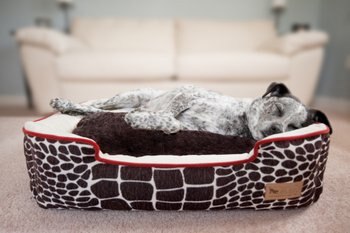 2. Your Pet's Preferences & Needs
We often hear people say that their furry friends don't like to sleep on pet beds; well, have you considered what their sleeping preferences or needs are?
If your pet likes to stretch out and sleep, try a pillow-type bed. You can find some comfy rectangular and round beds that provide ample stretching room. If your pup likes to curl up and nest, we recommend a bumper or Lounge Bed (something with sides). Also, make sure to select the right size. If you find yourself in between sizes, we always recommend going for the larger.
Many people don't realize that pet beds can be a cause for discomfort if pets are allergic to the materials. Lots of beds are filled with cedar chips which are completely unwashable and something that many pets are allergic to. If your pet tends to have a lot of allergies, be on the safe side and look for something hypoallergenic like 100% natural cotton or poly-fiber filling.

Get a Quick Quote Online or
Call Pets Best Insurance at 877-738-7237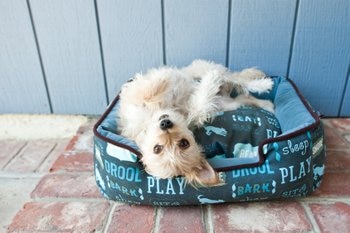 3. Style
Since a pet bed is often a piece of furniture in your home, why not choose something that complements your decor? Often pet beds can be an eyesore; the days of plain colors or plaid as the only pattern option are long gone! You can now find pet beds with beautiful aesthetics made to look great in your home and match your personal tastes and style.
4. Eco-Friendly Options
You can now find eco-friendly pet beds and those made from recycled materials. At P.L.A.Y. we fill our beds with PlanetFill® filling which is made out of 100% post-consumer recycled plastic bottles. In just one Extra Large Lounge Bed, we keep 108 plastic bottles from going into a landfill.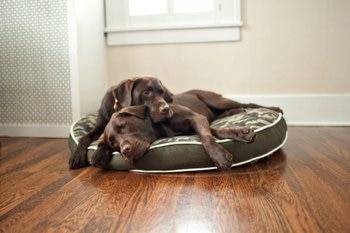 Being a pet owner, there's a good chance you're an animal lover. But many people don't realize that with their buying choices, they could also help an animal in need. Through P.L.A.Y.'s Warm Bellies Initiative with the Petfinder Foundation, we donate a mat to a homeless pet with every eligible purchase made on our website. So by giving your pet a new luxury pet bed, you're also giving a needy pet a warmer belly.
These are just a few things to keep in mind when looking for a new bed for your furry friend. For more info about P.L.A.Y. and the products we make, visit www.PetPlay.com.
Why pet insurance? Learn more about pet insurance at www.PetsBest.com.
Pet Parents: Get Our Monthly Free eNewsletter!