Posted by: H.R.
Pets Best Insurance Editorial Manger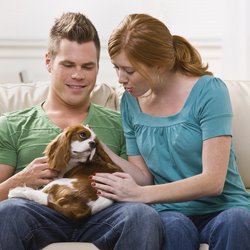 There are several things that you need to do in order for your puppy to be a well-rounded member of society. Puppies are like children: they're sponges that absorb all the information you teach them. When dealing with a puppy it is important to be a leader and teach him what you expect of him. One of the most important things you can do for your puppy is to start him on a high-quality puppy dog food.
A quality puppy food will contain good ingredients like meat and fish as opposed to corn and meat by-products. Quality food will ensure your puppy gets his nutritional needs met, which will allow him to be in good pet health throghout his life.
Puppy exercise should include daily walks and play sessions. Playing outside with your dog will also allow him to burn off excess energy and keep him from becoming bored. Puppies that do not receive daily exercise are more prone to behavioral issues such as chewing inappropriate objects and excessive barking.
Enrolling your puppy in dog obedience training classes is one of the best things that you can do for your puppy. Taking a class together will strengthen the bond between the two of you. Along with a strong bond, you will also enforce your role as the leader of the pack. Your puppy will also learn how to walk on a leash correctly, sit, stay and other commands that all puppies should learn.
Take your puppy to the veterinarian for routine veterinary care. Making sure your pet is up to date on vaccines and free from intestinal parasites.
Get pet insurance for your puppy. Pet insurance makes owning a puppy more affordable by covering illnesses or injuries that your puppy may have. Pet insurance will allow you to provide the best care for your puppy throughout its life.