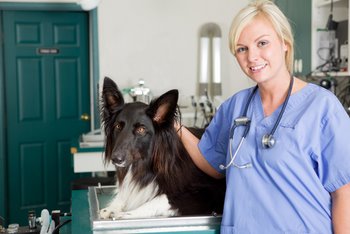 Maybe you've just moved to a new area or maybe you're just not satisfied with the current level of veterinary care you're receiving. Either way, finding a new vet can be a challenging undertaking if you don't know what you are looking for.
Choosing a veterinarian definitely takes more than just picking a highly credentialed doctor. Even the smartest vet still needs proper equipment, the ability to communicate, and good staff before he or she is the best vet… But how as a consumer can you recognize these differences? Here are some helpful tips to aide you when selecting the best veterinarian for you and your companion animals.
The clinic
In many cases, the clinic itself can shed some light as to the type of veterinary practice you are entering. Here are some questions you should be asking yourself as you approach any new hospital:
• Does the outside of the clinic appear well kept?
• Is the location convenient to your home and would you be able to access this clinic quickly if you found yourself with a veterinary emergency?
• Once you enter the clinic, is it clean? Does it smell funny?
• Is the waiting room large enough to have plenty of space in between waiting patients?
• Is there an outside area where your pet could relieve him/herself should he/she need to spend time in the clinic?
• Are the business hours convenient for your schedule?
Or Call 877-738-7237 to speak with a Pets Best Agent to Add a Pet to Your Policy
In my opinion, the most important question relates to the cleanliness and smell of the hospital. Though not always true, sometimes the lack of attention to a clean waiting room can imply the lack of attention to a clean surgical suite, treatment area, or ICU. In any hospital, veterinary included, it is very important to remain as clean and sterile as possible.
The Staff
Anyone who has been a business owner knows that finding the perfect employee can be a very difficult endeavor. However, keeping a fluid and skilled staff members that get along well goes a long way in creating an effective and enjoyable working environment. These types of environments almost always equal better and more compassionate care for your pet. Have you ever been into a business and overheard employees complain about their job or co-workers? How about workers that are engaged in social conversation rather than giving the consumer the appropriate level of attention? A distracted environment is probably not what you're looking for in a medical facility. Here are some questions to consider:
• Are you greeted promptly upon arrival to the clinic?
• Are the employees professional and up-tone?
• Do you hear gossip, griping, complaining, sighing, or general reluctance by the employees to do their job or provide you with what you need?
• Are the employees informative? If they don't have the information you need, do they retrieve it or find someone who can?
• If you plan to file pet insurance claims, will they be helpful in the event the pet insurance agency requesting medical records?
The Veterinarian
Of these categories, the veterinarian is certainly the most important. Many people just have a 'gut feel' about their doctor… listen to these feelings. If you don't feel comfortable with your vet then you will have a hard time trusting them when difficult medical and financial decisions need to be made. In addition to asking yourself the following questions, medical infractions and malpractice issues are public record for all doctors. I would recommend checking for discrepancies through your state veterinary board office. Here are some questions you should ask yourself about your potential veterinarian:
• Does the veterinarian treat your pet gently/compassionately?
• Is he/she thorough with the examination?
• Can the veterinarian explain things to you in a way you understand?
• Are they willing to take extra time to answer your questions?
• Does he/she seem confident in their delivery of information?
• Do they appear and act in a professional manner?
The Medicine
So now you may have an impression of the clinic and the doctor, but how can you tell what type of medicine is being practiced? Unfortunately, without intimate knowledge of medicine, it would be very difficult for a client to thoroughly evaluate a practice. You can, however, ask some questions that may help identify red flags about the clinic. Since anesthesia is a very important aspect of medicine, I find this category a useful marker. Try asking your vet these questions:
• Do you monitor blood pressure during anesthesia? (The answer should always be yes. Clinics should also monitor an ECG, respiratory rate, and temperature as bare minimum)
• What type of inhaled anesthetic do you use? (In my opinion, Isoflourane and Sevoflourane are some of the best options at the time this article was written. Halothane is often considered outdated.)
• Is pain management used for all surgical procedures? (The answer should always be yes.)
• Are animals intubated for surgical procedures? (The answer should always be yes.)
There is no limit to the types of questions that one could ask to help shed light on the different aspects of medicine and how they are being handled at a particular clinic. Do you have a specific question? Is there something you're a little confused about with your current veterinarian or finding a new one? Post your questions to the Pets Best Insurance Facebook page to get answers from practicing veterinarians!