By: H.R.
Pets Best Insurance Editorial Manager
Being an animal lover and a dog owner, I'm always searching for interesting toys and pet products for my Chihuahua, La La. One of my favorites thus far, was a "Chewy Vuitton" squeaky purse my mother bought for her "grand-dog" for Christmas one year.
There is truly nothing more hilarious than watching a tiny Chihuahua trot around the house, holding her designer handbag by the handle.
Now that I work for a pet insurance company, I literally spend hours doing very important "research" on new and upcoming pet health and other pet related products. The following were some I stumbled upon that were too funny not to share.
1. Does your mother-in-law drop by unexpectedly- maybe every Sunday morning at 8:00 AM? Throw her to the dogs with the KyJen Funny Fleece In-Law doll. Not only is this passive aggressive toy a funny way to get your point across, but this in-law will never remind you that you forgot to dust your shelf.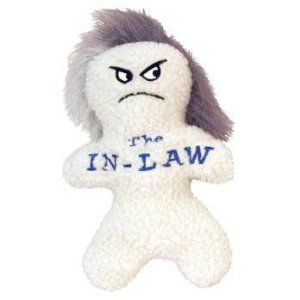 2. Have you always thought that your dog was rather, dapper, suave… maybe even a touch debonair? If so, your pet is likely still missing one thing—the Humunga Stache Rubber Funny Dog Toy. Give your pet this knee-slapping chew toy and entertain your family and friends alike. Try to keep it together as your pet trots around the house with a black, curled moustache on his upper lip.
3. Ever wish you could kick back and share a cold one with man's best friend? Well, although real alcohol can be detrimental to pet health, you and your pet can now imbibe together with the Silly Squeakers Hiney Sniffen Funny Dog Toy. With an obvious nod to the well-known Heineken beer, laugh for hours as your dog chews on this silly bottle-shaped toy.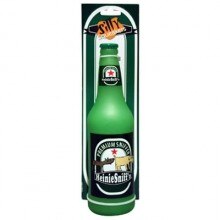 4. Do you have a coprophagic dog on your hands? This common medical condition refers to a pet that eats, ahem, its own, or other animals' poo. Although that's pretty much the grossest thing I can picture, you can at least try to deter your dog's affection for excrement by offering up the Mr. Poops Funny Squeaker Dog Toy instead. It even comes in two sizes.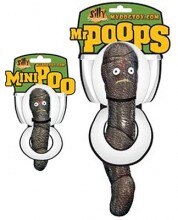 5. Finally, there is nothing more hilarious than a dog with a really long tongue—especially if it's also a fetch toy. This Humunga Tongue Rubber Funny Dog Toy has a gigantic red tongue on one end, and a ball attached to the other. Is your dog sticking its tongue out because he's hot, or is he just being sassy? You'll never know.