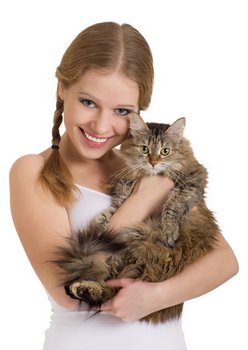 By: Dr. Jane Matheys
Associate Veterinarian
The Cat Doctor Veterinary Hospital
For Pets Best Insurance
February is National Cat Health Month! It's time to honor and celebrate the cats that you love so much, and to make sure that you are taking the necessary steps to keep them healthy. If you're like many cat owners who are lax about regular check ups for their feline companions, it's time to get them in for a veterinary visit.
Americans love cats! According to the 2011-2012 National Pet Owners Survey, there are approximately 86 million cats in the United States, compared to approximately 78 million dogs. That makes cats the most popular pet here in the US– which is one of the reasons why cat insurance is so important. Despite the fact that cats are such a popular pet, many cats are not getting the veterinary care they deserve and need. A survey by the American Veterinary Medical Association revealed that cats don't visit veterinarians as often as dogs. The average dog sees a veterinarian 1.5 times a year, whereas cats average less than once a year. This is especially bad news for cats because they tend to hide pain and illness so they often don't see a doctor until they are seriously sick.
Prevention and early detection of medical problems are the keys to a healthy lifestyle for your cat. Cats need routine veterinary care just like dogs do. Your cat should be seen by a veterinarian at least once a year, even if he or she is an indoor pet. While an indoor cat is less likely to hit by a car or get a cat bite abscess from fighting, it's just as likely to get kidney disease, cancer, diabetes or another serious ailment. Because cats age much more quickly than humans, older cats or cats with chronic illnesses benefit even more by visiting the veterinarian twice a year.
The cornerstone of each visit is the physical examination that the veterinarian performs. The doctor will then develop an individual wellness plan, including vaccinations and parasite prevention, that is based on your cat's specific lifestyle. Regular medical check ups for your cat can help to identify pet health conditions before they become costly to treat and possibly even life-threatening.

Or Call 877-738-7237 to Add a Pet to Your Current Policy
Pet health insurance is a cost effective way to provide your cat with the necessary veterinary care. Pet health plans are available that cover both preventative care and unexpected illness or emergency medical treatment. It's always best to enroll in cat insurance while your cat is young and healthy with no pre-existing medical conditions.
Annual exams are the best way to prevent future medical problems, provide a longer life for your cat, and have a happier, healthier cat now. Take time this month to schedule an appointment with your veterinarian for your feline friend.