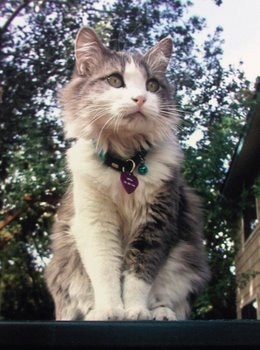 By: Chryssa Rich
Pets Best Insurance Marketing Associate
A few years ago, my parents adopted a beautiful Ragdoll cat from a local shelter and instantly fell in love with her. Just a couple of months later, however, they noticed she wasn't eating or drinking normally.
X-rays revealed Sophia had an intestinal blockage. Surgery would've cost around $2,500 – not an amount most pet owners are prepared to shell out for a cat they'd just recently adopted. At the time, I had just returned from living outside the U.S. and none of us had heard of health insurance for cats.
My parents decided the price was too high, especially when there was no guarantee Sophia would be cured. So the vet helped us keep her hydrated with injections of fluids while we tried alternative methods to move the obstruction. We gave her little blobs of petroleum jelly and massaged her abdomen daily, and we fed her liquid food with a syringe. Sadly, her health continued to decline dramatically, the obstruction didn't budge. Finally, my parents made the decision to have Sophia euthanized.
Every spring when the snow melts, my dad prunes the bushes around Sophia's little grave and straightens the pink bow on the wooden cross over her. They acknowledge now that pet insurance could've meant a different path for Sophia. Even if her intestinal blockage had turned out to be genetic and incurable, they wouldn't be left wondering, "What if?"
Cat Insurance Makes a Difference for Cats
Every day, more and more cat owners are realizing that cat insurance is a good idea. They learn that cat vet bills are just as expensive as dog vet bills, that cats get into trouble just like dogs do, and that pet insurance can offer real financial protection.
Brenda B. from Wisconsin has a story like Sophia's, only with a happy ending. Brenda has cat insurance with Pets Best Insurance and that's what likely saved his life. She writes: "My Ragdoll, Furby, needed surgery that would cost between $2,500 and $4,100. It would have broken my heart to have to put him down because I could not afford the surgery he needed."
On our Facebook page, we often hear from cat owners about the benefits of cat insurance. Lisa O. of Missouri has two cats insured with Pets Best Insurance, one of which is a senior pet she couldn't insure elsewhere. She writes: "Our kitty Felix is 15 and has ongoing kidney issues. Not only did Pets Best insure him when he was 14….they have covered over $3000 in medical bills….and never any hassle or worry for us."
Lisa P. from California wrote on our Facebook Reviews page: "We just lost our 17 year old kitty. Having the insurance on her let us afford the medications she needed and any procedures to keep her going for many extra years."