Avoid holiday hazards: Keep your pet safe this holiday season
Posted on December 22, 2010 under Pet Health & Safety, Pet Insurance News, Pet News (General)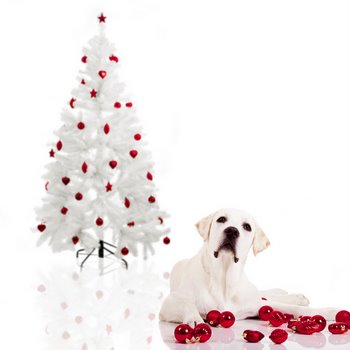 Christmas trees are generally the main attraction when it comes to decorating for Christmas. With its glowing lights and beautiful ornaments, trees are attractive not only to humans but to pets as well.
But Christmas trees can pose a number of hazards to your pet. Keep your pets safe from Christmas tree dangers this holiday season so you won't have the need to use your cat or dog insurance.
A common danger when putting up a Christmas tree is the tree falling down and hurting you or your pets. Trees should be placed securely into tree stands and secured to a wall or window in order to prevent them from falling.
Another Christmas tree danger for pets is the needles of the tree. Whether you have a real or artificial tree, pets should not be allowed to chew on the needles. They can cause irritations in their mouth and intestines.
Ornaments offer another potential danger to pets. Tinsel should be avoided as it can cause intestinal blockages if ingested. Other types of ornaments to avoid are food ornaments like candy canes and popcorn. Glass ornaments or breakable ornaments should be placed at the top of the tree and out of your pet's reach.
Electrical cords and light cords are also a danger to pets. Keep pets away from electrical cords to keep them from chewing them, which can lead to electrical shock or even death.
Before the holidays, it is a good idea to brush up on your pet first aid skills and to ensure you have a pet insurance policy for your dog or cat. Pets are more prone to accidents this time of year so being prepared with a dog or cat insurance plan is a good idea. Pet insurance policies also make great gifts for the dog or cat in your life.