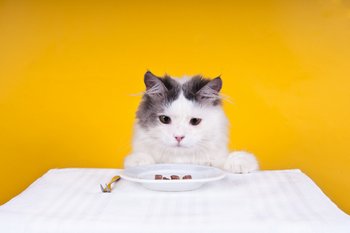 By: Dr. Jane Matheys
Associate Veterinarian
The Cat Doctor Veterinary Hospital
For Pets Best Insurance
Most people are familiar with the term "anorexia" as it applies to human health. Outside of medical literature, the words anorexia and anorexia nervosa are often used interchangeably.
Anorexia nervosa is a psychological eating disorder characterized by excessive food restriction, irrational fear of gaining weight and distorted body image. We've all probably heard about it in the news, but thankfully, this kind of anorexia doesn't actually occur in cats. Anorexia, on the other hand, is simply a medical term for loss of appetite for food, and it's a very common in cat health condition.

Or Call 877-738-7237 to Add a Pet to Your Current Policy
Anorexia in cats usually starts with a decrease in appetite followed by complete refusal to eat food. It can be a very serious indicator of an underlying pet health condition that needs prompt treatment, so always consult with your veterinarian if your cat has not eaten in 24 hours. For a kitten younger than six weeks of age, food avoidance for just 12 hours can pose a lethal threat, so seek veterinary attention immediately.
Anorexia can be a symptom of a diverse number of feline health problems including a fever, nausea/vomiting from gastrointestinal disease, kidney disease, liver disease, pancreatitis, diabetes, upper respiratory infections, dental or mouth pain, trauma injuries and cancer.
Stress can be an important contributing factor. Anorexia is commonly seen in hospitalized patients and among cats that are placed in boarding kennels. Anorexia can also be induced by other stressful and psychological events such as moving into a new house, loss of a companion, a new pet/person in the house and other environmental changes. Dietary changes can prompt anorexia too. Some cats are "picky" eaters, and may dislike a new food that is offered. Whatever the cause of anorexia, the condition is never the result of a cat simply deciding not to eat like with anorexia nervosa in people.
Anorexia in cats is corrected by identifying and treating the underlying problem. A detailed medical history and thorough physical examination should be followed by any labwork or imaging studies indicated by the exam. These may include blood tests, urine tests, x-rays or an ultrasound. Results will help dictate specific treatment plans. Because these kinds of tests can often be expensive, it's a good idea to have invested in a cat insurance policy early on.
Some cats may need to be hospitalized for fluid support to treat dehydration. Nutritional support may be provided with appetite stimulants, syringe feeding (as long as it doesn't worsen food aversion) or via a feeding tube. Stress reduction is necessary, and it's good to offer finicky cats a variety of foods. It's especially important to quickly treat anorexia in overweight cats since they are more prone to a very serious liver disease called hepatic lipidosis due to prolonged anorexia and/or rapid weight loss. Treatment of the underlying cause of anorexia can be costly, so it is important to be financially prepared for unexpected illnesses in your furry friends. Pet health insurance is a good option to help manage veterinary medical costs.