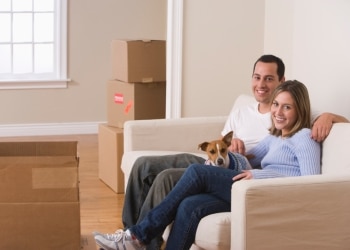 By: Ryan Vasso
For Pets Best
Whether you're a renter looking to buy or a home owner looking for more (or less) square footage— house hunting is no easy task, especially if you have a pet to consider. Once you find what you think might be the perfect house, you'll need to make sure it will also be a good fit for your furry family members. Pet insurance agency, Pets Best, has a few tips to help your family determine if the next place you move will be a good fit for you and your pet.
1. Will your pet be mostly indoors or out?
Will your pet be running around in the house or the yard? If the answer is indoors, choose a home with wide spaces and hallways so your pet has plenty of room to bound and play. You may also want to consider a home that has an area inside that you can "fence off", or has a separate room where your pet can relax when guests come over. If your pet will be an indoor/outdoor pet, keep the flooring in mind too. Wood floors are gaining popularity, however, they can also become scratched. If you prefer carpet, remember that muddy paws are part of the pet package. Try choosing a color that won't show a lot of wear and tear. If your pet is mostly outdoors, make sure there's room in the yard for a cozy dog house, and plenty of shade for warm summertime weather.

Or Call 877-738-7237
2. Do other pets live close by?
Sometimes it's great to have other pets live nearby so your fluffy loved one can interact and meet new friends. Nevertheless, some pets struggle with their fellow furry neighbors. Knowing your pet's personality will help you determine if he or she needs more space. After all, good fences make good neighbors— especially if they have tails. But because pets can be unpredictable, it's also a good idea to consider pet health insurance for your pet if you haven't already.
3. If you have a dog, are there dog parks and good walking routes?
Good walking areas and parks are probably a must for you and your pet. It will not only motivate both of you to walk and get exercise more often, but it's a great way to spend some time with your pet during leisurely weekends. Some things to look for in good walking paths include spacious areas with little threat from traffic, pleasant scenery, and a plethora of different route options.
4. Is there enough space to run and play?
Is the backyard big enough for you and your pet? Is it currently dog-friendly, or will you need to do some immediate work on the landscaping and perhaps build a fence? Remember that an upgrade in housing doesn't always equate to an upgraded yard for your pet. If you are moving to an apartment or condo, make sure the square footage of your dwelling is appropriate for the type of breed you own. For example, a larger dog like a Doberman Pincher will need much more space than a Domestic Shorthair cat or a Chihuahua.

5. Keep your pet's age in mind.
Do you have an older, indoor pet? If so, stairs might not be the best option for your pet – especially if he's showing signs of arthritis. Puppies can also struggle with stairs as they continue to improve their coordination.
6. Make sure your real estate agent knows you are a pet owner.
It seems pretty simple, but many real estate agents don't ask if potential home buyers are pet owners. If your agent knows you have pets, he or she can focus on homes that can be more pet friendly. Let them know what you and your pet are looking for.
For more information about pet health or to learn more about cat and dog insurance, visit Pets Best to get a free quote today!