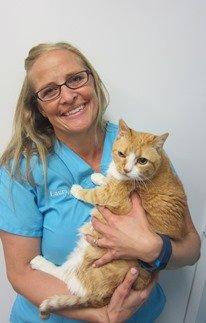 At Pets Best, we believe the veterinary industry is empowered by the many certified veterinary technicians who, through their hard work and dedication, make a difference in the lives of their patients each and every day. We created the Why I Love Being a Vet Tech contest to acknowledge their tireless efforts. In partnership with the National Association of Veterinary Technicians in America (NAVTA), we are pleased to announce this year's top eight finalists.
Meet Laura Call, a Licensed Veterinary Technician at Sully Animal Hospital in Centreville, Virginia. She graduated from Brigham Young University in 1998 and received her license shortly thereafter.
Outside of the clinic, she is a busy mom of four who spends much of her free time with her husband and kids. She enjoys watching her children run track, cross-country, and play baseball. Her children call her the "crazy bird lady" because she loves to watch birds at her backyard bird feeder. When she gets her fill of watching birds out the window, she and her family love going to baseball games. Perhaps it's no coincidence that she and her family are huge Baltimore Orioles fans.
Despite her love for animals big and small, she doesn't actually have any pets of her own. Her husband and daughter are highly allergic, which makes it challenging to have animals in her home. However, she loves going to the clinic and spending time with her clients' pets, living vicariously through her clients. It helps her to love her clients' pets like they could be hers, though her family hopes they'll be able to find a hypoallergenic dog soon. Her son already has a name picked out: Squishy Paws!
Why did you choose to become a vet tech?
Everyone always talks about what they want to be when they grow up, but for me it was never a question. I never even had to think about it—I have always wanted to work in the veterinary field. I have really enjoyed being around animals of all kinds for as long as I can remember, but puppies were probably what pushed me over the edge. I just can't resist them. Veterinary medicine just seemed like a logical career path for me to follow. I think there is nothing better than truly enjoying the work you do everyday.
Why do you love being a vet tech?
That's just it: I love what I do. I enjoy every pet, from the new puppies all the way to the old, gray, arthritic dogs. I love nuzzling the animals and rubbing bellies to keep them calm during blood pulls. I love knowing that what I am doing will keep them healthy and make them feel better. I rejoice when a new pet is added to a family and I still cry with owners when the time has come to let a beloved pet go. I have been a licensed veterinary technician for 15 years and I still love every minute of it, from expressing anal glands to nursing animals back to health after a big surgery. I love that every day is different and exciting. I enjoy challenging cases and discovering what I can do to make each pet's life more enjoyable. The bottom line is that I always knew this was the career for me and I know that I chose the right path because I STILL enjoy going to work every day!
If you could improve upon or change one thing about the veterinary industry, what would that be?
I think it would be client education. While there are a lot of people out there who will do everything they can for their pets, there are also a lot who don't know much about how to properly take care of their pets. They don't understand the diseases they are susceptible to, the way preventive care can really extend their pet's lives, and how to recognize the signs and symptoms of pain or disease. I really enjoy helping pet owners understand what is going on with their pets and how we can help owners enjoy as much time as they can with their pets.
Does your clinic talk to clients about pet insurance?
I certainly can see the value of pet insurance for our clients. It is almost a daily occurrence that we have to talk to a client who has concerns about how they will be able to pay for services for their pet. We have the opportunity to talk to our clients about insurance and how it can keep the cost of their pet's care to a minimum. It gives us the chance to teach them the value of preventive care.
–
We invite you to stay tuned to our blog, where we will share in-depth Q&A sessions we held with the remaining finalists. (You can learn more about the Why I Love Being a Vet Tech Contest here.) The contest winner will receive a one-year NAVTA membership and a paid trip to the 2017 North American Veterinary Community Conference. You may vote here for Laura or any of the other finalists once a day through Thursday, October 6th.