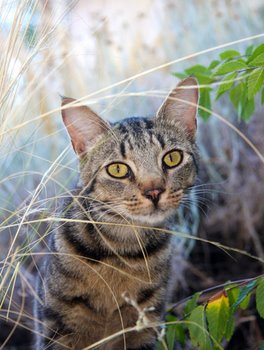 Posted by: H.R.
Pets Best Insurance Editorial Manager
There are many different types of homeless cats: strays who are lost or abandoned, others that are waiting in shelters, pounds and foster homes, and an estimated 70 million "wild" feral cats in the United States alone, according to a 2004 National Geographic News article.
"The Humane Society of the United States believes feral and stray cats produce about 80 percent of all kittens," wrote Patrick McCallister in a Daytona Beach News-Journal article entitled Oak Hill Seeks to Tame Feral Cat Growth.
The October 2010 article explains that the city is trying to establish a trap-neuter-release pet health program, in which feral cats are trapped and fixed to avoid further breeding of homeless pets. Because feral cats have never lived with humans and are usually not eligible for cat adoption, they are then released back into the area where they were found.
Volunteers across the country run similar programs in a never-ending effort to keep the number of stray cats down. With an estimated 6-8 million homeless pets already waiting for homes in pet adoption centers, according to a recent article in the Gary Post-Tribune, spaying and neutering is an important issue for animal advocates.
Low-cost spay and neuter clinics have opened in cities across the country in hopes that more pet owners will choose to spay or neuter their pets if the price is more affordable. The clinics also provide services for trapped feral cats. Such clinics are able to keep costs down by releasing pets hours after the desexing surgery rather than keeping them overnight for observation. And because they provide limited services, they can see more pets in a day than veterinary clinics.
The American Humane Society asks pet owners to help with pet overpopulation by spaying and neutering all pets. According to fact sheets on the Society's website, it is safe to spay or neuter healthy pets as early as 8 weeks of age, and when fixed young, puppies and kittens heal faster and with less pain and stress than adult pets. Fixing pets can also help diminish cat and dog health care issues.