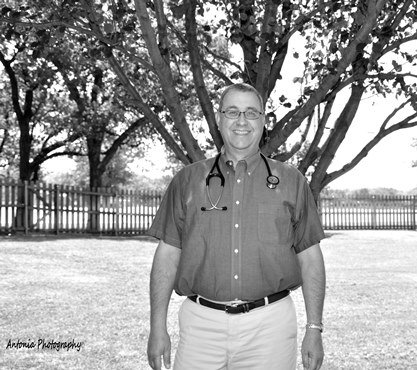 How much do you love your vet? In 2010, Pets Best developed the My Vet's the Best Contest—the first of its kind—to allow pet owners to acknowledge veterinarians around the nation for outstanding service and compassionate care. We've again received hundreds of submissions for our second contest of 2016, and are pleased to announce our latest finalists. Once more, we're pleased to see the tremendous impact veterinarians are making in their local communities. Meet Dr. Russell Johnson, who is one such individual.
In the 20 years since Dr. Johnson received his veterinary medical degree from Texas A & M University in 1990, he has practiced general veterinary medicine in the greater Dallas / Fort Worth area. He entered into veterinary medicine following in his grandfather's footsteps and now owns and practices at Neighborhood Pet Health Center in North Richland Hills, Texas. His professional interests include dermatology, endocrinology, and internal medicine. His wife, Lisa, joined the clinic team in 2010.
When he's not caring for his patients, Dr. Johnson enjoys fishing, camping, and spending time with his wife and his 16-year-old son Reese. Read on for our Q&A with Dr. Johnson.
Why did you decide to become a veterinarian?
I have wanted to be a veterinarian as early on as I can remember. My grandfather was a "self taught" vet who did a West Texas circuit [and] I grew up listening to stories he would tell about his days as a veterinary practitioner. I loved watching him do horse and cattle work (and I still have his medical bag). This [helped give me] a passion for animals and for learning as much as possible about them.
What do you enjoy most about being a veterinarian?
I love doing diagnostics and figuring out what is wrong with your pets. They cannot speak, so my job is figuring out what is wrong and fixing it! Pets are my passion. I love what I do.
What makes you unique in your field?
Our staff has been here long term and they love the clients and pets as well. Our clinic is not a large clinic. We want to be known more as a family-owned and -operated clinic that wants to get to know our clients and pets on a personal basis—quantity vs. quality.
Fun Pet Fact:
Dr. Johnson owns two dachshunds: Chisum and Lilly.
If you enjoyed reading about Dr. Johnson, stay tuned to our blog, where we will share in-depth Q&A sessions we held with the remaining finalists. Learn more about the My Vet's the Best Contest by clicking here. You may vote for Dr. Johnson or any of the other finalists once a day through Thursday, July 28th, 2016 on the Pets Best Facebook page.