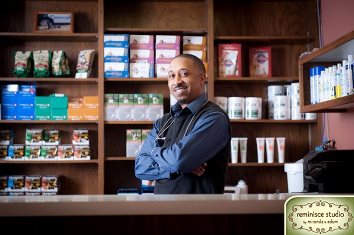 How much do you love your vet? In 2010, Pets Best developed the My Vet's the Best Contest—the first of its kind—to allow pet owners to acknowledge veterinarians around the nation for outstanding service and compassionate care. May kicks off our first contest of 2016, and we've again received hundreds of submissions. As we announce this round of finalists, we're pleased to see the tremendous impact veterinarians are making in their local communities. Meet Dr. Wright, who is one such individual.
Prior to practicing at Wright's Brown Deer Animal Hospital, Dr. Ramard Wright worked in the veterinary filed for over ten years at clinics in Southeastern Wisconsin. Raised in Milwaukee, he graduated from with a bachelor's degree in biological science from the University of Wisconsin-Milwaukee and obtained his degree in veterinary medicine from the University of Wisconsin-Madison in 2008. His professional interests include soft tissue and orthopedic surgery, exotics, and canine and feline wellness.
In his spare time, Dr. Wright participates in youth mentoring activities, recreational sports, and other community events. But he particularly enjoys spending time with his fiancée and five growing young boys. "My family is the most important thing [and] the time we share is always memorable," he says. Read on for our Q&A with Dr. Wright.
What do you enjoy most about being a veterinarian?
I love that I get to help people treat and learn about their animals. I really enjoy having the knowledge to educate and perform surgery on a daily basis. This is the best job in the world.
What makes you unique in your field?
I treat all small animal creatures. This includes birds, snakes, rats, and the occasional squirrel.
Do you talk to your clients about pet insurance?
I encourage all clients and especially the larger one to use pet insurance.
What would you like to say to your clients and community who nominated and voted for you?
I am honored to be nominated for this award. My clients mean the world to me. I appreciated all the extra goodies and especially this nomination.
If you win the contest with the most votes, how do you plan to use your $1,000 prize?
If I win the prize, then I would use the prize to help the next client whom couldnt afford a huge surgery at a referral clinic.
Fun Pet Fact:
Wright has a large family—and a large animal family, too. His pets include three dogs: Julio, Bullet, and Frosty; a scarlet macaw; and a cat named Madison.
If you enjoyed reading about Dr. Wright, stay tuned to our blog, where we will share in-depth Q&A sessions we held with the remaining finalists. Learn more about the My Vet's the Best Contest by clicking here. You may vote for Dr. Wright or any of the other finalists once a day through Thursday, May 19th, 2016 on the Pets Best Facebook page.