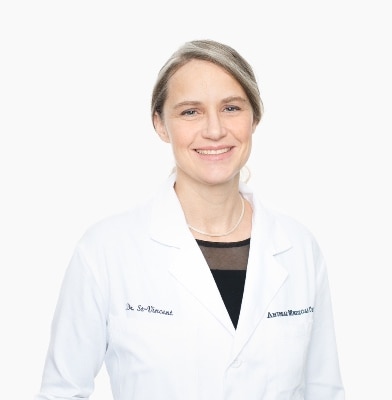 How much do you love your vet? In 2010, Pets Best developed the My Vet's the Best Contest—the first of its kind—to allow pet owners to acknowledge veterinarians around the nation for outstanding service and compassionate care. We've again received hundreds of submissions for our second contest of 2016, and are pleased to announce our latest finalists. Once more, we're pleased to see the tremendous impact veterinarians are making in their local communities. Meet Dr. Rachel St-Vincent, who is one such individual.
Dr. St-Vincent practices at the Animal Medical Center in New York City, and is the only onsite, full time radiation oncologist in New York State. After receiving her Doctorate in Veterinary Medicine from the University of Montreal, she completed a one-year internship program in small animal medicine and surgery at Washington State University. She later completed a residency program in veterinary radiology and earned a Master of Science Degree from Western College of Veterinary Medicine at the University of Saskatchewan and completed her clinical training in radiation oncology at the Animal Cancer Treatment Center and at the William Beaumont Teaching Hospital in Michigan.
In her spare time, she enjoys being outside, particularly gardening and hiking with her husband John, and spending time with her own two loving cats, Einstein and Luigi. Read on for our Q&A with Dr. St-Vincent.
Why did you decide to become a veterinarian?
My decision to become a veterinarian originated from a love of sciences and health. My mother was a nurse, and I grew up listening to all of her fascinating stories regarding her days at work at the dinner table. I also LOVED my pets, so when I decided that I wanted to pursue a medical career, I decided to try medicine for animals.
What do you enjoy most about being a veterinarian?
The most rewarding part of my profession is helping our clients' most beloved pets feel better, improving the quality of their life, and keeping them happy and healthy so that they can spend more time with their owners.  I absolutely love playing with my patients and bonding with them. It is a very special feeling when I see a smile on their owners' faces and when I see that they are feeling better and happy to see me.
What makes you unique in your field?
My specialty is unique because I solely treat pets diagnosed with cancer, and specialize in radiation oncology. While there are very few radiation oncologists in veterinary medicine, we are a growing field. Currently, I am the only veterinary radiation oncologist offering both IMRT and Stereotactic Radiation Therapy in the state of New York.
Do you talk to your clients about pet insurance?
The staff at AMC is always willing to discuss anything that can help our clients and their pets receive the veterinary care that they need.
What does it mean to you to be nominated for this award?
I am very appreciative that my clients and their families are happy with my care that I give to them and their furry companions.
What would you like to say to your clients and community who nominated and voted for you?
Thank you. I feel very honored and it gives me great pleasure to serve both you and your loving pets.
If you win the contest with the most votes, how do you plan to use your $1,000 prize?
To start, I would treat my whole support staff for helping me to provide our clients with the best care we possibly can. This would absolutely not have been possible without them.
Pet Facts:
Last year, Dr. St-Vincent sadly lost two of her four pets—the family's oldest cat to renal failure, and a rabbit to unknown gastrointestinal complications. However, she still enjoys the company of her two loving cats Einstein and Luigi. Einstein, Dr. St-Vincent's "survivor", was diagnosed with both a brain and spinal meningioma five and a half years ago, and is now 15 years old. Luigi—"a stray kitty that showed up at our door in early winter following a big snowstorm"—was one of Einstein's Christmas gifts. "He was very nervous and scared at first," she says. "But Einstein took him under his wing and they have since been inseparable."
If you enjoyed reading about Dr. St-Vincent, stay tuned to our blog, where we will share in-depth Q&A sessions we held with the remaining finalists. Learn more about the My Vet's the Best Contest by clicking here. You may vote for Dr. St-Vincent or any of the other finalists once a day through Thursday, July 28th, 2016 on the Pets Best Facebook page.