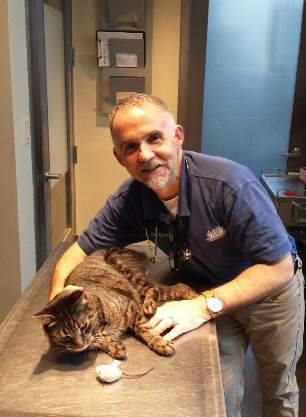 You likely know a veterinarian who has made a powerful impact on your family or in the community. In 2010, Pets Best developed the My Vet's the Best Contest to acknowledge these professionals for their outstanding service and compassionate care. Every year we receive hundreds of submissions from pet owners around the nation, and our first contest of 2017 is no different. We are again pleased to announce our finalists, along with corresponding stories that illustrate the many ways veterinarians are making a difference in their local communities and beyond. Meet Dr. Peter Soboroff.
Having always been "enamored of all animals" (but especially those of the feline variety), Dr. Soboroff originally pursued a career in wildlife biology, obtaining his bachelor's and master's degrees in wildlife biology at the University of Illinois. He then began working as a wildlife biologist for the Illinois Natural History Survey, researching badgers and waterfowl, and eventually attended the University Of Illinois College Of Veterinary Medicine.
However, after graduation and a post-graduate internship at the Animal Medical Center in New York, his special interest in and affinity for cats led him to open the New York Cat Hospital on Manhattan's Upper West Side in 2006. Today, Dr. Soboroff has been practicing veterinary medicine since 1996 and is an active member of the American Veterinary Medical Association and the American Association of Feline Practitioners.
He believes focusing attention exclusively on cats has allowed him to develop a deeper understanding of and appreciation for "these endlessly engaging and fascinating animals." He explains, "It's a daily pleasure knowing that each and every visit is another opportunity to interact with my favorite animal." These compassionate interactions reflect Dr. Soboroff's commitment to provide care for cats in a peaceful, stress-free environment — in "the same gentle, thoughtful manner we would want for our own cats."
In his hours away from the cat hospital, Dr. Soboroff  enjoys spending time with his wife, young son, and the family's two cats. He also likes to run in his spare time — so much so that he'll be running a solo marathon around the island of Manhattan on Fathers Day to raise money for two senior cat rescue groups his clinic works with: Frankie's Feline Fund and Ready for Rescue (see his GoFundMe for more information). Read on for our Q&A with Dr. Soboroff.
Why did you decide to become a veterinarian?
I had started my career as a wildlife biologist, and initially thought I would use my veterinary degree in that capacity.  But then I came to New York City for some post-grad training, fell in love with the city, and decided to stay and work on small animals.
What do you enjoy most about being a veterinarian?
It's gratifying when — by virtue of your efforts/interventions — a tough case really turns around and we see a patient that is clearly feeling so much better.
What makes you unique in your field?
I own/operate New York Cat Hospital, so am able to focus most of my attention on cats.  I certainly like dogs as well, but have always had an affinity for felines.
What does it mean to you to be nominated for this award?
I was surprised and flattered by the nomination. It allows me to think that sometimes, when the stars align, I might just be doing things right.
What would you like to say to your clients and community who nominated and voted for you?
I'd like to say a sincere, heartfelt "Thank You."  In an often stressful job, it's nice to know my efforts are noticed and appreciated.
If you win the contest with the most votes, how do you plan to use your $1,000 prize?
The money would go to the aforementioned rescue groups to help their efforts for abandoned, special needs senior cats.
Fun Pet Fact:
There are a half dozen various "feline misfits" that live at the cat hospital, but Dr. Soboroff's family includes a few cats, as well — two tuxedo males named "Megatron" and "Optimus Prime" (AKA "Opie"). According to Dr. Soboroff, they are both sweet, active, and affectionate — and not at all like their namesakes (killer robots from outer space).
If you enjoyed reading about Dr. Soboroff, continue to visit our blog, where we will share in-depth Q&A sessions held with the remaining finalists. Learn more about the My Vet's the Best Contest by clicking here. You may vote for Dr. Soboroff or any of the other finalists once a day through Thursday, June 15th, 2017 on the Pets Best Facebook page.