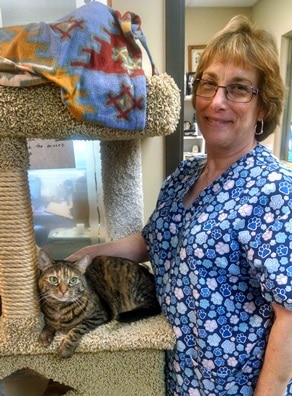 How much do you love your vet? In 2010, Pets Best developed the My Vet's the Best Contest—the first of its kind—to allow pet owners to acknowledge veterinarians around the nation for outstanding service and compassionate care. We've again received hundreds of submissions for our second contest of 2016, and are pleased to announce our latest finalists. Once more, we're pleased to see the tremendous impact veterinarians are making in their local communities. Meet Dr. Melinda March, who is one such individual.
After received her bachelor's degree from the University of Illinois in 1977, Dr. March completed her Masters of Science in 1979, and completed her Doctor of Veterinary Medicine in 1983. Before opening March Animal Hospital in Arlington Heights, Illinois, in 1994, she practiced as an associate veterinarian for 11 years. Dr. March's special interests include internal medicine and soft tissue surgery.
When she's not enjoying the company of her own pets, Dr. March likes to read, fish, and golf. She also still meets with grammar school friends for a few hands of mahjong every week. Read on for our Q&A with Dr. March.
Why did you decide to become a veterinarian?
I became interested in science in sixth grade. I have always loved and owned pets. When I discovered I could do both things I loved, I was hooked!
What do you enjoy most about being a veterinarian?
There is immense satisfaction in saving the life of a patient in crisis. It is very rewarding to work with geriatrics and extend the life of a beloved pet. I also enjoy seeing new patients, knowing I can give the owner important information to make the life of their pet be the best it can be. I also get to play with puppies and kittens every day!
What makes you unique in your field?
I have tried to be as kind and understanding to my patients and clients as I can. My practice thrives on personal relationships with our pet patients and our clients. We feel that the best care we can give is to go beyond the basic medical care and offer TLC along with alternative medicine to help extend the life of our patients. We offer house calls, laser pain therapy and acupuncture in addition to western medicine. Our Mission Statement is: "At March Animal Hospital we help your pets live long, healthy, and happy lives through education, compassion, and above all, great medicine."
Do you talk to your clients about pet insurance?
I always recommend pet insurance for my clients' pets. There are so many advances in veterinary medicine, so much more can be done for our pets. Most owners want to do these new procedures, but they cost a lot of money. Insurance allows our clients to provide the best care for their important family members.
What does it mean to you to be nominated for this award?
I am very flattered that someone thinks enough of our practice to nominate us for such a prestigious award. I am so proud of my clinic and my wonderful staff.
What would you like to say to your clients and community who nominated and voted for you?
Thanks to all my clients for voting for us! We really appreciate the vote of confidence. We love you guys!
If you win the contest with the most votes, how do you plan to use your $1,000 prize?
My staff and I like to do rescue work when we can. If our clients find a stray, they are brought to my office and we take care of their medical needs. We then try to find them homes. This money could take care of a lot of strays.
Fun Pet Fact:
Dr. March owns four pets, all of which are rescues: Lana, an American Eskimo mix that was rescued from Hurricane Katrina; Emma, a domestic shorthair tabby cat, found in a bush at two weeks old; Pepper, a black cat found wandering around a friend's neighborhood; and Chuck, a Chihuahua mix found wandering the streets of Chicago.
If you enjoyed reading about Dr. March, stay tuned to our blog, where we will share in-depth Q&A sessions we held with the remaining finalists. Learn more about the My Vet's the Best Contest by clicking here. You may vote for Dr. March or any of the other finalists once a day through Thursday, July 28th, 2016 on the Pets Best Facebook page.