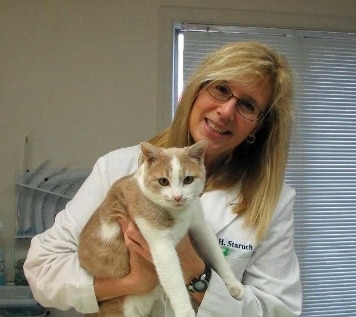 How much do you love your vet? In 2010, Pets Best developed the My Vet's the Best Contest—the first of its kind—to allow pet owners to acknowledge veterinarians around the nation for outstanding service and compassionate care. May kicks off our first contest of 2016, and we've again received hundreds of submissions. As we announce this round of finalists, we're pleased to see the tremendous impact veterinarians are making in their local communities. Meet Dr. Staruch, who is one such individual.
Dr. MaryHelen Staruch graduated with her degree from the University of Pennsylvania Veterinary Medicine. Her subsequent years spent in rescue work meant the adoption of several cats and dogs, all rescues that comprise a well-cared-for pet family. Today, after gaining extensive experience in small animal emergency care, she practices at Ocean View Animal Hospital in Delaware.
Dr. Staruch loves the outdoors, whether it's walking along the beach, swimming, playing tennis, or golfing. She also enjoys spending time with her family, specifically her significant other, Frank. She makes time for great music, watching movies, and having dinner with friends. Read on for our Q&A with Dr. Staruch.
What do you enjoy most about being a veterinarian?
I enjoy getting to know the patients and their owners (clients) and hearing their stories of how each pet came into the client's lives. I also enjoy the challenge (as it can be at times, both medically and surgically), to maintain the health of each pet, and to educate each pet owner, understanding the special bond they have with their furry family members. Every day is a new day.
What makes you unique in your field?
I care about each and every one of my patients. My passion is still very much alive for my profession. I always and will continue to, try my best, even in the most challenging of cases. I am honest when talking to a client about prognoses. And most importantly, I practice from my heart.
Do you talk to your clients about pet insurance?
We talk to new puppy and kitten owners, and provide literature in our welcome kits.
What does it mean to you to be nominated for this award?
I was surprised. I was honored. It was humbling, as I know there are so many talented colleagues out there practicing like me who also qualify for this award.
What would you like to say to your clients and community who nominated and voted for you?
Thank you for your trust, your loyalty, and your continued faith in me.
If you win the contest with the most votes, how do you plan to use your $1,000 prize?
Pets come into our hospital every day requiring medical or surgical treatment. Most of my clients are able to afford the quality of care I recommend. However, a few clients are unable.  If I should win this contest, the prize money would go towards helping those less fortunate.
Fun Pet Fact:
Dr. Staruch's dogs include Lilly, the Bullmastiff that needed surgery as a puppy to correct a congenital rectal defect; Jake, the Golden Retriever born with bilateral hip dysplasia; and Valentine, a gentle mixed breed that recently came to the clinic as a stray. Her cats include Fergus, the 16-year-old orange and white tabby she adopted after his former owner could not afford the medical bills and hospitalization to treat his urinary blockage at age three. Star is Dr. Staruch's "black beauty", and is one of her bottle-fed babies from 15 years ago. She is always on the lookout for a loving, responsible home to place one of her middle-aged felines.
If you enjoyed reading about Dr. Staruch, stay tuned to our blog, where we will share in-depth Q&A sessions we held with the remaining finalists. Learn more about the My Vet's the Best Contest by clicking here. You may vote for Dr. Staruch or any of the other finalists once a day through Thursday, May 19th, 2016 on the Pets Best Facebook page.