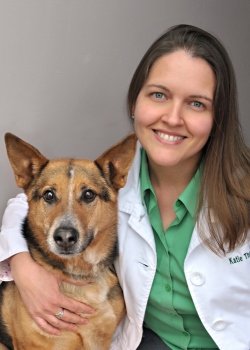 Do you know a veterinarian who has made a powerful impact on your fur family? In 2010, Pets Best developed the first-of-its-kind My Vet's the Best Contest — with the purpose of allowing pet owners around the nation to acknowledge these professionals for their outstanding service and compassionate care. Yet again, we've received hundreds of submissions for our final contest of 2016, and are pleased to announce the finalists. The stories that follow are a testament to the many ways veterinarians are making a difference, both in their local communities and beyond. Meet Dr. Katie Thomas, our fourth finalist.
Dr. Thomas received her Bachelor's Degree from the University of Colorado Boulder and attended veterinary school at Colorado State University. She now practices veterinary medicine at Left Hand Animal Hospital in Niwot, Colorado. Dr. Thomas's veterinary interests include anesthesia, surgery, dentistry, ophthalmology, pain management, osteoarthritis, neurology, and client education.
In her spare time, Dr. Thomas enjoys traveling (her passport is one of her "most cherished items"), scuba diving, hiking with her dog, and riding her cruiser bike around town. Read on for our Q&A with Dr. Thomas.
Why did you decide to become a veterinarian?
I grew up on a small farm just outside of Erie, Pennsylvania, and always loved animals. Some of my family had careers in human medicine and while I loved math and science growing up, I knew I didn't want to enter human healthcare. After high school, I went to the University of Iowa for engineering, but found something lacking in my career choice. After a few more schools and a few more career pursuits (outdoor education, ecology), I started a part-time job in a great veterinary clinic. I was hooked. I loved the client education, interesting mix of cases, and getting to help animals on a daily basis.
What do you enjoy most about being a veterinarian?
I enjoy explaining complex medical concepts in layman's terms that everyone can understand. Our clients are always involved in the decision-making process for their pets and I see my job as an educator and advocate for my patients. I also enjoy the variety and breathe of surgical and dental procedures that general practice allows.
What makes you unique in your field?
I enjoy talking to people and the problem solving that comes with a patient population that cannot tell me what is wrong with them. Oftentimes the diagnosis is in the details and the nuances of a good physical exam and the observation of the patient. Also, we focus on low stress visits at Left Hand Animal Hospital and most of our patients love to come and see us!
Do you talk to your clients about pet insurance?
Yes — it often times minimizes the financial stress when their four-legged furry friend gets sick.
What does it mean to you to be nominated for this award?
I was really touched and honored to be nominated. I love my job and I LOVE being a veterinarian. I would never want to do anything else, but having a client take the time out of their busy life to nominate me is a huge honor.
What would you like to say to your clients and community who nominated and voted for you?
THANK YOU! I truly try to treat the whole pet for all aspects of his or her life, embracing our motto of "We believe in whole body care for the whole life of their pets." I try to treat every patient like my own pet and I offer the clients options for ways to move forward. I want clients to feel educated and empowered after our appointments.
If you win the contest with the most votes, how do you plan to use your $1,000 prize?
We have a client that is fostering an adorable English bulldog puppy with some hind leg issues. This puppy is adorable and sees the world through fun-loving, joyful eyes. Though she is built differently, she enjoys every day. Even with pet insurance, her multiple medical challenges have high financial costs. This family would love to adopt her and would provide the perfect home, but they are worried about the associated costs. These funds would be used to offset some of these costs and provide this puppy with a great, lifelong, loving home.
Fun Pet Fact:
Dr. Thomas's pets are further evidence of her love for travel: she names her pets after cities. She currently owns an 11-year-old rescued cattle dog/shepherd mix named Dobson and Brogan, a toothless 12-year-old cat she adopted when he and his littermate were abandoned. "While I have not been to Brogan, Oregon," she says, "I have been to Dobson, New Zealand!" As a vet, Dr. Thomas also maintains a strict "number of arms vs. number of pets rule," she says. "If not, I would have a LOT of animals."
If you enjoyed reading about Dr. Thomas continue to visit our blog, where we will share in-depth Q&A sessions held with the remaining finalists. Learn more about the My Vet's the Best Contest by clicking here. You may vote for Dr. Thomas or any of the other finalists once a day through Thursday, November 17th, 2016 on the Pets Best Facebook page.