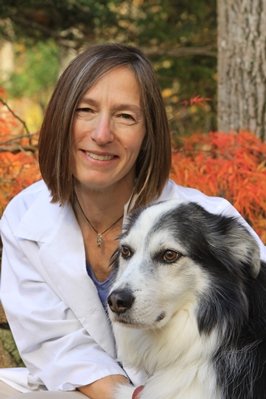 How much do you love your vet? In 2010, Pets Best developed the My Vet's the Best Contest—the first of its kind—to allow pet owners to acknowledge veterinarians around the nation for outstanding service and compassionate care. We've again received hundreds of submissions for our second contest of 2016, and are pleased to announce our latest finalists. Once more, we're pleased to see the tremendous impact veterinarians are making in their local communities. Meet Dr. Katherine Jackson, who is one such individual.
After graduating from the University of Pennsylvania School of Veterinary Medicine, Dr. Jackson began working as a mixed animal practitioner in rural New Hampshire, where she gained a wealth of experience treating small and large animals—and even wildlife if the need arose. She also has ten years of experience working in emergency, critical care medicine, and surgery; and worked as a local relief veterinarian before practicing at Bethany Veterinary Hospital in Connecticut. For he past eight years, she has been the sole owner of the small animal clinic, which is AAHA accredited.
In her spare time, Dr. Jackson enjoys spending time outdoors with her husband and three children, whether it's hiking, camping, or riding bikes. Individually, she enjoys trail running and recently began venturing into the sport of triathlons. She also spent many years working as a trail veterinarian at sled dog races in Maine, Minnesota and Oregon—which allowed her to experience the great outdoors while working with exceptional canine athletes. Read on for our Q&A with Dr. Jackson.
Why did you decide to become a veterinarian?
My father was a "human" doctor (General Practitioner) and as a result, this fostered an interest in the medical field. However, I was always attracted to helping animals even as a small child. I never dreamed of becoming anything but a veterinarian.
What do you enjoy most about being a veterinarian?
What I enjoy most about being a veterinarian is making animals healthy, and in doing so, I know that I am helping people. Having grown up in the human medical field (my father and two siblings are physicians), I think that our profession is much more satisfying and special than our human counterpart because we get to help both animals and people.
What makes you unique in your field?
I feel that my varied work experiences over the past 25 years have made me a well-rounded veterinarian. My first job out of school was as a mixed animal practitioner in rural New Hampshire (dogs, cats, horses, cows, sheep, alpacas and whatever else a client brought through the door…a real "James Herriot" experience!). These four years were extremely valuable and gave me the chance to use many things that I had learned in school. Because there were not any referral centers, my mentor instilled in me the confidence to attempt pretty much anything, practicing with a sense of compassion and humor. I became quite skilled at both in soft tissue as well as orthopedic surgery.  Working in a small town also fostered a strong feeling of community and I became very close with my clients. After moving to Connecticut and working as a small animal practitioner for the next four years, I then began working in emergency clinics and as a relief veterinarian for the next ten years. Emergency work can be extremely challenging at times and requires one to think quickly and clearly during stressful situations and again, requires confidence to tackle anything that is presented to you. Relief work requires you to be able to adapt the individual styles of various hospitals. As I reflect upon my career, I feel extremely fortunate to have had such a wonderfully varied experience. I have worked with clients in various environments: out in the field on farm calls and extreme winter conditions with sometimes less than ideal conditions, emergency situations with clients who have never met you before but who must entrust the care of their pet with you, and in the comfortable setting of my own hospital. I feel this has given me the ability to understand and sympathize with clients' concerns regarding their beloved pets.  I believe that this has made me unique in our field where many veterinarians were less fortunate than I to have such a varied experience.
Do you talk to your clients about pet insurance?
Yes, we try to discuss it when they come in with their puppy/adult dog rescue or kitten.
What does it mean to you to be nominated for this award?
I have never been nominated for any award before and I was extremely touched by the news. Due to everyone's busy lives, I realize what an effort it can be to actually submit the nomination. I thought that was such a nice gesture.
What would you like to say to your clients and community who nominated and voted for you?
I would like to thank them for thinking of me. I also realize that it not just the doctor, but Bethany Veterinary Hospital as a whole that makes our clients' experience special and allows us to provide compassionate care of their precious family members. My basic mantra for the staff has been to always treat our clients and our patients as you would like to be treated. I also feel extremely fortunate to be at the helm of Bethany Veterinary Hospital as we celebrate 40 years of service to our clients and the community.
If you win the contest with the most votes, how do you plan to use your $1,000 prize?
I will use the money to assist our clients who are experiencing financial difficulty. We have been fortunate enough in the past to have had clients make donations for such causes. It is always so touching to see the client's reaction and they are always extremely grateful. Often they make a contribution once their financial situation improves. Typically, I try and spread the money to help as many clients and patients as possible, as opposed to having a large portion going to only a few beneficiaries. I feel that every little bit helps a person in need.
Fun Pet Fact:
Dr. Jackson owns four pets: Jinx and Jerry, two black rescue cats that provide the family with entertainment ("especially Jerry, who loves to carry articles of clothing all around the house," she says); Hammy II, a dwarf hamster; and Louis, a Border Collie mix rescue that arrived from Tennessee with heartworm about five years ago. Louis often joins Dr. Jackson when she gives presentations at schools.
If you enjoyed reading about Dr. Jackson, stay tuned to our blog, where we will share in-depth Q&A sessions we held with the remaining finalists. Learn more about the My Vet's the Best Contest by clicking here. You may vote for Dr. Jackson or any of the other finalists once a day through Thursday, July 28th, 2016 on the Pets Best Facebook page.