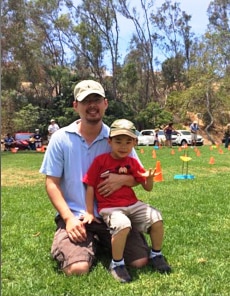 How much do you love your vet? In 2010, Pets Best developed the My Vet's the Best Contest—the first of its kind—to allow pet owners to acknowledge veterinarians around the nation for outstanding service and compassionate care. May kicks off our first contest of 2016, and we've again received hundreds of submissions. As we announce this round of finalists, we're pleased to see the tremendous impact veterinarians are making in their local communities. Meet Dr. John Kim, who is one such individual.
Dr. Keun "John" Kim's accomplishments are many, as are his affiliations. After receiving his bachelor's degree in Organismic Biology Ecology and Evolution, Dr. Kim received his Doctorate of Veterinary Medicine from the University of California Davis. He then completed a rotating internship, and later worked in emergency, general practice, and rotated for on-call surgeries at a specialty center. His experience earned him the title of Preceptor for Western University of Health Sciences Veterinary Medicine, and he has been involved in training over a dozen new veterinarians.
In his years in the veterinary field, Dr. Kim has worked with Seal Beach Animal Care Center, Basset Hound Rescue, Animal Assistance League, Homeward Bound Golden Retriever Rescue and Sanctuary, Greyhound Pets of America, and Northern California Bulldog Rescue, among others.
Today he practices at the South Orange County Animal Hospital, and offers a variety of solutions and individualized treatment options. He is trained in internal medicine, general and orthopedic surgery, emergency and critical care, ultrasonography, and endoscopic and rhinoscopic foreign body removal.
Dr. Kim devotes the majority of his hours away from the clinic to his family. "In the half day a week I have off, I spend time running after my kids," he says. Read on for our Q&A with Dr. Kim.
What do you enjoy most about being a veterinarian?
I enjoy the animals—even the animals that hiss, growl, bite, and scratch.
What makes you unique in your field?
Every veterinarian has a different approach with communication. I try to lay out as many different options to my owner. Also, I ask my owners if I should speak more medical jargon to make them feel more comfortable with me. Their most common answer is "no".
Do you talk to your clients about pet insurance?
Yes, I speak with them about different pet insurance and different models.
What does it mean to you to be nominated for this award?
I am very humbled that anyone would take the time to write anything about me.
What would you like to say to your clients and community who nominated and voted for you?
Thank you, thank you, thank you!
If you win the contest with the most votes, how do you plan to use your $1,000 prize?
I would give [the prize money] to my staff in some way, shape, or form. They are the ones that deserve it, not me.
Fun Pet Fact:
While Dr. Kim doesn't have any pets of his own, the women in his family are admitted animal lovers. His wife has a Maltese poodle mix and his mother has a miniature poodle. "I am responsible for caring for both," he jokes.
If you enjoyed reading about Dr. Kim, stay tuned to our blog, where we will share in-depth Q&A sessions we held with the remaining finalists. Learn more about the My Vet's the Best Contest by clicking here. You may vote for Dr. Kim or any of the other finalists once a day through Thursday, May 19th, 2016 on the Pets Best Facebook page.