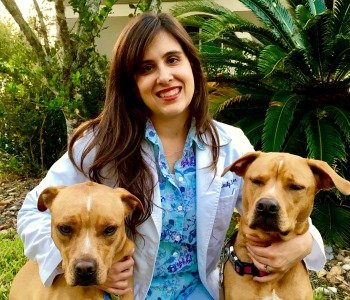 Do you know a veterinarian who has made a powerful impact on your fur family? In 2010, Pets Best developed the first-of-its-kind My Vet's the Best Contest — with the purpose of allowing pet owners around the nation to acknowledge these professionals for their outstanding service and compassionate care. Yet again, we've received hundreds of submissions for our final contest of 2016, and are pleased to announce the finalists. The stories that follow are a testament to the many ways veterinarians are making a difference, both in their local communities and beyond. Meet Dr. Emily Singler, our seventh finalist.
Dr. Singler received her Bachelor's Degree from Penn State University and her veterinary degree from the University of Pennsylvania School of Veterinary Medicine in 2005. She now practices at Waterford Lakes Veterinary Hospital in Orlando, Florida, but she has traveled and participated in veterinary service trips abroad, in both Guatemala and Ecuador. Her professional interests are surgery and preventative medicine.
When she is not working at the clinic, Dr. Singler enjoys spending time with her husband, two children, and the family's pets. They especially like to go camping, watch movies, cook meals together, and play outside. Dr. Singler is also active in her church, teaching Sunday School and singing in the choir. Her solo pursuits include running, horseback riding, sewing, singing, and playing the piano. Read on for our Q&A with Dr. Singler.
Why did you decide to become a veterinarian?
I was one of those kids who always knew I wanted to be a veterinarian. I was often rescuing baby birds and baby bunnies. I have always had a special love for and bond with animals of all kinds. I was responsible for family trips to farms, zoos, marine parks and many destinations to see animals in the wild. I always knew I was destined to work with animals, and I loved studying science. I just kept pushing forward toward my goal until I had reached it.
What do you enjoy most about being a veterinarian?
I really enjoy forming long lasting relationships with my patients and their owners. This includes caring for my patients during all phases of their lives and being there along the way for any questions or problems that arise. I think one of the most important things that I do is to provide education to my clients and to emphasize preventive medicine so that together we can keep their pets happy and healthy for longer.
What makes you unique in your field?
I believe my compassion for both my patients and their owners is very important to my success as a veterinarian. In addition to keeping my patients' comfort and well-being as a priority, I always strive to listen to their owners' concerns and to empower them with the information they need to make the best decision for them and for their pet.
Do you talk to your clients about pet insurance?
I talk to my clients about pet insurance occasionally, but usually when the subject is brought up by the client.
What does it mean to you to be nominated for this award?
It is a huge honor to be nominated for this award. It means so much to me to read the words from a family with whom I have worked closely for several years and to know what my efforts mean to them. It inspires me to keep striving to do better and trying to make a difference in the lives of all of my patients and their families, as well as in my larger community.
What would you like to say to your clients and community who nominated and voted for you?
I would like to say a huge and heartfelt Thank You. Your encouragement inspires me and makes me want to do better.
If you win the contest with the most votes, how do you plan to use your $1,000 prize?
I am considering different options, such as creating a fund to help sick and/or injured animals receive the treatment they need when their owners cannot afford it due to financial hardship. I am also considering making a donation to a local organization or charity to provide care for sick and/or rescued animals.
Fun Pet Fact:
Dr. Singler and her family have three pets: a ten-year-old domestic short hair cat named Comet who loves snuggling and finding the perfect spot to take a nap and two year-old littermates Mojo and Ginger, boxer-ridgeback mixes who love wrestling, hunting lizards in the yard, and cuddling when it comes time to watch movies as a family. "They are incredible athletes, and Mojo often jumps into the tree in our backyard to look for lizards and squirrels," says Dr. Singler. "On occasion I will see them swinging from the rope swing hung in the tree by their mouths!"
If you enjoyed reading about Dr. Singler, continue to visit our blog, where we will share in-depth Q&A sessions held with the remaining finalists. Learn more about the My Vet's the Best Contest by clicking here. You may vote for Dr. Singler or any of the other finalists once a day through Thursday, November 17th, 2016 on the Pets Best Facebook page.