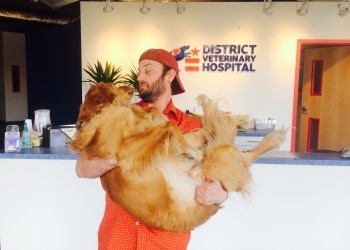 Do you know a veterinarian who has made a powerful impact on your fur family? In 2010, Pets Best developed the first-of-its-kind My Vet's the Best Contest — with the purpose of allowing pet owners around the nation to acknowledge these professionals for their outstanding service and compassionate care. Yet again, we've received hundreds of submissions for our final contest of 2016, and are pleased to announce the finalists. The stories that follow are a testament to the many ways veterinarians are making a difference, both in their local communities and beyond. Meet Dr. Dan Teich, our second finalist.
Since receiving his Doctor of Veterinary Medicine Degree in Ohio State University in 2003, Dr. Teich has practiced medicine in the DC Metropolitan area. For a time, he served as the medical director for the Washington Human Society and now practices at District Veterinary Hospital in Washington DC.
Dr. Teich jokes that Brian the Dog is the chief beneficiary of his free time. "We explore our city together," he explains. "He licks politicians and inspects the grounds of our National Parks while I cherish the fresh air." He also enjoys museum- and event-hopping with husband and "greatest supporter," Shawn. They often go on rock-collecting adventures, from which they have amassed an impressive mineral collection, many of which appear at District Vet. Read on for our Q&A with Dr. Teich.
Why did you decide to become a veterinarian?
I was expected to be a veterinarian from the age of four; I've known no other profession. I don't believe in predestination, but if I did, this would be the best evidence ever.
What do you enjoy most about being a veterinarian?
The clients: you are the best part of veterinary medicine. Veterinarians provide health care to peoples' most loved friends. If you do not have a connection with the people — if you don't know their stories and their needs — you cannot provide the best care to their pets. Medicine should be tailored to the patient and the client, to promote health and happiness. When the patient is well and the client is happy, you have a satisfied and content veterinarian.
What makes you unique in your field?
I have a white coat somewhere, but don't ask me to find it! I approach every appointment as if I am seeing an old friend, not a patient. Friends don't greet each other with a white coat and a tie, they get together on a couch (or floor, in my case) and play in tee shirts, cargo pants and have a great time together. It's the love of the patient and the client, as well as the passion to identify a problem and find the solution, which drives me everyday.
Do you talk to your clients about pet insurance?
Pet insurance has emerged as an essential tool for keeping pets healthy. I frequently discuss the benefits of pet insurance with clients; the monthly investment pays dividends when needed most. I have yet to have a client regret having insurance from a reputable insurer such as Pets Best. I wish all clients had some level of insurance for their pet.
What does it mean to you to be nominated for this award?
Being nominated for Best Veterinarian is so very heartening. This is a tough job — one with love, loss, and heartbreak. This nomination is a giant hug, one that affirms the hard work and dedication that veterinarians put forth every day. I'm deeply touched.
What would you like to say to your clients and community who nominated and voted for you?
I am so lucky to be in a wonderful community, surrounded by fantastic clients. Thank you so much for taking time to say thank you. Thank you for sharing some love. All of our big societal problems could be solved if more people were like you — thoughtful and generous with time, words, and deeds. I feel the love and it is this love which gets me out of bed each morning.
If you win the contest with the most votes, how do you plan to use your $1,000 prize?
District Vet supports several rescue groups as well as The Humane Society's Division of Humane Law Enforcement. Our Care Fund, which I personally match dollar for dollar, could help more pets than ever before. One never knows when a need will arrive at our doorstep; we aim to turn no one away.
Fun Pet Fact:
In addition to his diligent monitoring of Dr. Teich's free time, Brian the Dog is Chief of Pet Relations at District Vet. "[Brian] clocks in at work everyday, greets clients, plays with puppies, and shares his love with everyone," he says. Dr. Teich also adopted the Brainz, the seven-year-old golden retriever, from a local rescue group when he was just a puppy. "This 60 pound ball of derpy orange fuzz is far and away the best kind of friend you could have," says Dr. Teich. Last but not least, his oldest pet is a small, 17-year-old catfish, about which his clients still ask.
If you enjoyed reading about Dr. Teich, continue to visit our blog, where we will share in-depth Q&A sessions held with the remaining finalists. Learn more about the My Vet's the Best Contest by clicking here. You may vote for Dr. Teich or any of the other finalists once a day through Thursday, November 17th, 2016 on the Pets Best Facebook page.