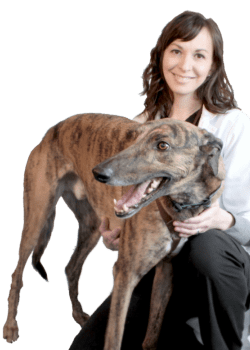 Do you know a veterinarian who has made a powerful impact on your fur family? In 2010, Pets Best developed the first-of-its-kind My Vet's the Best Contest — with the purpose of allowing pet owners around the nation to acknowledge these professionals for their outstanding service and compassionate care. Yet again, we've received hundreds of submissions for our final contest of 2016, and are pleased to announce the finalists. The stories that follow are a testament to the many ways veterinarians are making a difference, both in their local communities and beyond. Meet Dr. April Finan, our fifth finalist.
After attending veterinary school at the University of Illinois College of Veterinary Medicine, Dr. Finan spent ten years in emergency practice. She now owns Finan Animal Hospital in Darien, Illinois, and is a member of the American Veterinary Medical Association, the Illinois State Veterinary Medical Association, The Veterinary Emergency and Critical Care Society, and the Chicago Veterinary Medical Association.
When Dr. Finan isn't at the animal hospital, she can be found chasing around her two young children, cooking vegetarian meals with her family, "and trying to clean up spilled applesauce before the dogs get it!" she jokes. To balance work with her personal life, she also enjoys making time for meditation every day. Read on for our Q&A with Dr. Finan.
Why did you decide to become a veterinarian?
I was a senior in high school and I was all set to attend college to study art and painting.  At the last minute something clicked and I realized I needed to be in a field where I could help people but more importantly help animals. I switched majors and the rest is history.
What do you enjoy most about being a veterinarian?
I enjoy getting to know my patients and their owners on a personal level. Not only do I get to know the pets but I know their families as well — where they work, where they go to school, what sports team they're rooting for. I try to understand each family's unique relationship with their pet so that I can help strengthen that bond. But I'd be lying if I didn't say the best part of being a veterinarian is puppy kisses!
What makes you unique in your field?
I am a solo practitioner — clients get to see me every time they come in. Because I own the practice, I get to set the tone for each visit. The visits are laidback, friendly, and I try to connect personally with every pet owner. My appointment times are extra long so I'm sure to take time to answer all their questions. I sit on the floor with the pet and allow them time to get to know me. Pet owners really appreciate being treated like family. I also have an amazing staff; we keep our office clean, bright, and upbeat. The staff loves working here and it shows in the way they treat our patients.
Do you talk to your clients about pet insurance?
Yes, I always recommend pet insurance, especially to puppy and kitten owners. You can never predict a broken bone or a chewed up sock!
What does it mean to you to be nominated for this award?
I was crying when I found out I was nominated. To me it means years of hard work are paying off. I pour my heart and soul into each and every interaction I have with my patients. It means the world to me that someone noticed how much I care about what I do.
What would you like to say to your clients and community who nominated and voted for you?
I'd like to say thank you from the bottom of my heart for taking the time to appreciate us. We absolutely love what we do and we are blessed with the world's best clients. Our clients and our community are some of the most caring and amazing people we've ever met.
If you win the contest with the most votes, how do you plan to use your $1,000 prize?
I will use the $1000 to create a fund for low-income families with pets in need of urgent care. I hope to add to this fund every year and create an ongoing benefit to families and pets in need.
Fun Pet Fact:
"I'm a big fan of retired racing greyhounds — they are lazy and love naps. Perfect for me!" says Dr. Finan. Over the years, she and her family have rescued seven such greyhounds, and they currently have two. She also owns a three-legged cat, and plenty of fish.
If you enjoyed reading about Dr. Finan, continue to visit our blog, where we will share in-depth Q&A sessions held with the remaining finalists. Learn more about the My Vet's the Best Contest by clicking here. You may vote for Dr. Finan or any of the other finalists once a day through Thursday, November 17th, 2016 on the Pets Best Facebook page.