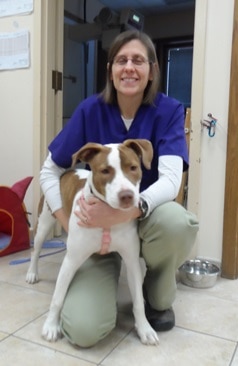 Dr. Mary Felt of DuPage Animal Hospital in Villa Park, Illinois is the 2014 grand prize winner of the My Vet's the Best contest. Each year, a panel of veterinary peers chooses one My Vet's the Best finalist out of 24, as the grand prize winner. The winning veterinarian receives a paid trip (for two)  to the Western Veterinary Conference (WVC) in Las Vegas, Nevada. Additionally, the winner is awarded $1,000 from Pets Best, to use toward animal non-profit organization of choice.
Dr. Felt was nominated by pet owner, Ellen Greer:
"Tuffy was a wonderful dog! He belonged to a captain in the US Army, who was a friend of our son's. We agreed to watch Tuffy during the captain's year long deployment.  Tuffy became ill two months into his stay.  His blood work revealed liver disease and treatment costs started at $1,700.00 which was more than a soldier can afford.  Dr. Mary Felt stepped in and waived all her veterinarian fees so the money could be used toward tests and medicine for the dog.  At first it looked like Tuffy was going to win the battle, however he developed a complication from the medicine and we took him to an emergency clinic.  The following morning Dr. Felt had us transport Tuffy to their clinic where she devoted two days trying to get the situation turned around.  I was able to have Captain Dan and Dr. Felt communicate during this time.  Captain Dan was heartbroken over his dog, so Dr. Felt called specialists and researched all options. She went above and beyond her vet duties while never charging the serviceman her fees. Unfortunately, Tuffy died while receiving treatment.  Dr. Felt held him during this time and she cried right along with me. The soldier knew Tuffy received the best possible care.  We  will all be forever grateful for the care and compassion she administered to us all."
To nominate your outstanding veterinarian for the My Vet's the Best contest, click here.