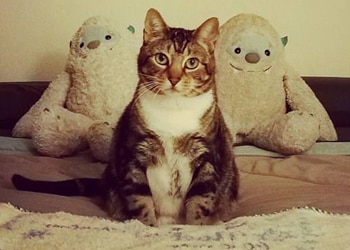 Priscilla would describe herself as a dog person with cat tendencies, and when the time came to add a cat to the family, she took to the internet. There she found Wesley, who was at risk for euthanasia in a shelter in New York. After taking one look at him, Priscilla knew that she had to save him. "There was just something about him that instinctively told me he needed to be with us," Priscilla said. "He is seriously our dream cat." She was excited to add to her family, but from past pets she knew that unexpected vet bills can creep up on any pet owner.
Priscilla messaged the shelter, and that weekend he had his checkups, his shots, and then Wesley made the long trek from New York to Portland, Oregon, where he was welcomed with open arms.
Now a part of the family, Wesley greets his parents at the door, checks in on them when they are sick, and makes their routines his routines. It was a match made in heaven. Priscilla wanted Wesley to have the best, and avoid the financial pain of unexpected vet bills, which meant getting him cat insurance.
"I had pet insurance through Pets Best with my dog, Lexi. I was really lucky in that she didn't have too many health ailments until she became quite older," Priscilla remembers. "But the claims I did have to file for her were so quickly processed and the customer service was top-notch."
Because they weren't certain of Wesley's age or health problems, Priscilla knew that pet insurance was the best option, just in case. She knew that unexpected vet bills could be very stressful, and she never wanted Wesley to be put in that situation where a choice was made because of money. She took advantage of the pet wellness plans that Pets Best offers, making sure that Wesley was healthy. Luckily, Wesley has been healthy, besides a chronic vomiting problem they chalk up to hairballs. Then one night, Priscilla heard him howl every time he would use the litter box.
"He's a vocal cat, but had never made sounds like that before," said Priscilla.
The next morning, they rushed him to an emergency vet to figure out the problem. Turns out, he had a blockage that was most likely caused by a UTI. The vet attached a catheter to Wesley to clear it out, and that night Priscilla took home a very groggy Wesley. Without pet insurance, that unexpected vet bill would have cost $1260.34. But with Pets Best, it only cost her $249.86 out of pocket.
"I about cried when I saw both amounts, but for very different reasons," Priscilla said. "We are planning a wedding, so money is pretty tight and these unexpected events can really have a devastating effect. But there's no way we wouldn't have done everything we can do make Wesley feel better, so having Pet's Best in our corner meant the world."
Because of the UTI, Wesley is now on a wet food diet, and needs cranberry supplements to help with his urinary tract health. But since it was caught early on, Wesley could avoid the surgery he would have needed if his urethra was fully blocked, and Priscilla was able to avoid that unexpected vet bill.
One of the things Priscilla loves most about Pets Best is the claim filing. The process took about a week for all her pets, and for that, she is grateful. Because of her great experiences, she constantly recommends Pets Best for anyone with a fur baby.
And for anyone who is still questioning whether to get insurance or not, she says this:
"Insurance is a tricky thing. On one hand, you never want a reason to use it but on the other hand, you don't want to be without it when the time does come. And the time always comes eventually. Future you will thank past you quite a lot for getting pet insurance."
Thank you, Priscilla, for choosing Pets Best!