By: H.R.
Pets Best Insurance Editorial Manager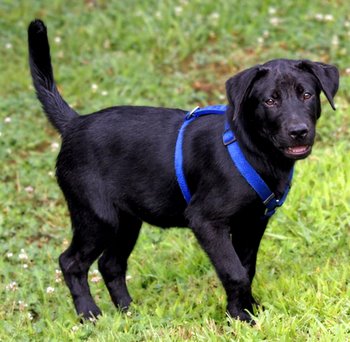 There's something exciting about picking out a collar and coordinating leash for your pet. Not only is the ensemble a fashion statement for you and your pooch (or kitty), but collars and leashes ensure pet health and safety—and depending upon where you live, it's likely even the law to keep your dog leashed while you're out and about.
Often times, however, pet owners don't realize the importance of picking the proper collar and leash, and how much pet health and safety depend on it. Smaller animals have different needs than larger animals do.
When using a collar and leash, here are some tips that will help keep your four-legged friend in prime pet health and tail-waggin' happy:
1. Select a collar and leash that is the correct size for your dog. Smaller dogs require thinner leashes and collars with smaller clasps, while larger dogs require thicker widths.
2. Be careful to never pull, drag, or abruptly tug at your dog's leash. Jerking the leash can injure your pet. If your pooch is reluctant to come or takes off in another direction entirely, call him to you in a calm, happy voice. If your dog routinely ignores your commands while on a leash, talk to your veterinarian about trying a safe prong collar for training instead of the traditional fabric or nylon collar.
3. If you have a smaller dog or a dog that pulls on its leash, consider purchasing a full-body harness instead of a standard collar. This will discourage your dog from pulling while ensuring your dog is not injured. Out of instinct alone, small-dog owners will often yank their dogs away from dangerous situations. A normal neck collar can cause severe damage if this happens, whereas a harness won't be problematic if you need to quickly scoop up little Rover. Harnesses also work well for cats that require some freedom while being safely restrained, for example, in airports or veterinarian clinics.
4. Check the collar and leash often. Your pet can easily get away if the collar or leash is weak. Inspect for tears, thread-unraveling, and broken or rusted hardware.
5. Always make sure your dog has a tag and a microchip with your current information. That way you can count on a quick reunion should you become separated.
The most important thing to remember about dog and cat collars and leashes is that they have the ability to save your pet's life. Heed the tips above, and you'll help to ensure the safety and health of your beloved pet.