By: Donna Cejalvo
Pets Best Insurance Director of Partner Programs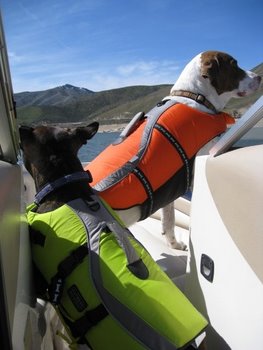 Now that Memorial Day has come and gone and our boat is prepped for the upcoming summer, our weekends will be spent enjoying the clear waters and warm summer sun on the lake with our dogs Piper and Dodger.
Piper, our sweet Pit Bull, must have been a fish in another life. Not only does she love to swim, but she can spend hours diving into the lake after her Water Wubba (fetch toy).
Dodger, on the other hand, (or paw) is our English Pointer mix who enjoys watching all the action from the boat, and prefers to stay dry and warm.
During boating season, there are several precautions we take to ensure the pet health and safety of our four-legged best friends while we're on the water.
1. Personal Flotation Devices for pets
If your dog is not a natural swimmer, (and surprisingly, not all are) life jackets are a must. In the spring and early summer months, the water temperature can be quite frigid, so hypothermia and exhaustion are concerns. Although Piper is a strong swimmer, we make sure she wears her life jacket on the boat—that way we are able to rest easy knowing that if she accidentally fell overboard or jumped in to chase a duck, she would be safe. Doggy life jackets can be purchased at most major marine stores and at some local pet shops.
2. Give them time to find their sea legs
Dodger loves both car and boat rides, but not all dogs do! If your dog is prone to motion sickness in the car, boating may not be for him. However, if you do decide to bring them along, allow your pets to familiarize themselves with the boat while it's still on land. It's also a good idea to give them a bit of time to get used to the rocking motion and the sound of the engine before you jet off.
3. SPF Protection
Sunscreen is a must if your dog has short hair, light-colored fur, or pale skin. Dodger has all of the above and is prone to nose burns if he's out in the sun even for a few minutes. Areas where dogs have less fur such as their abdomens and the inside of their legs are more-likely to burn. If you can't provide your dog with ample shade while enjoying the warm summer sun, try a natural, non-toxic, non-irritating sun screen. If you can't find sunscreen specially formulated for dogs, try sunscreens made for children and babies.
4. Fresh H20
Keep dog health care in mind when you're on the water! Unlike humans, dogs only have sweat glands on their noses and on the pads of their paws. They're unable to cool themselves down as efficiently as humans, so they're at a greater risk of overheating. Dogs cool themselves off by panting and drinking water, so make sure you have plenty available. Traditional dog bowls don't work well on bouncing boats, so we use a spill-proof travel bowl. Water bottles are also a good option to keep your pooch hydrated.
5. Bladder Relief
Give your dog the opportunity to go ashore before you jump aboard. And if your boat allows, you can train your dog to do his business in a designated spot.
We keep these tips in mind whenever we go boating to make sure our two first-mates get the best possible dog health care and supervision on the lake.