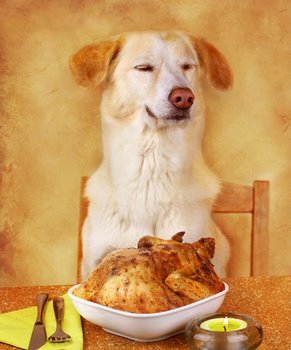 By: Dr. Fiona Caldwell
Vet at Idaho Veterinary Hospital
For Pets Best Insurance
Thanksgiving is just around the corner, which means it's the time of the year to pause (or paws) and be grateful for the joys and priviledges pets bring into our lives. Why not take a moment this year to think of all the things you're thankful for, aside from having pet health insurance, of course. As a vet, I like to reflect on and be thankful for the pets in both my professional life and within my own family. Pets ask us for so little and have so much to give in return. Here are the top 12 things I'm thankful for as a vet:
1. Unconditional love
If our pets misbehave and we're forced to use our scary "stern" voice, our pets will forgive us instantly. They're happy to curl up in our laps or give us a loving lick just moments after.
2. Unlimited kisses
There is always a sweet, wet tongue waiting to meet our faces– whether it's a 5 am wake-up kiss on a Satuday morning, or a "just because" kiss at the end of the day.
3. Companionship
Fido is there for us anytime of the day or night, and happy to give us love and attention whether we've had the worst or the best day of our lives.
4. Exercise
Our pets give us a reason to get some fresh air at the dog park, or throwing a frisbee in the yard. By doing activities like these with our pets, they keep us healthy and we keep them healthy.
5. Stress relief
It's actually been proven that having, holding and petting your pet physically reduces stress levels and keeps us healthier.
6. Always a tail wag and a happy face to greet you after a long day of work.
After a long day at the vet hospital, I'm always thankful to be greeted by my two dogs when I return home. No one will ever be as excited to see you as your pet.
7. Constant source of entertainment
Pets really do the darndest things! Whether it's pawing at your leg for a bite of breakfast eggs and sighing defeatedly when you won't give in, or chasing their tail, pets provide laughter and happiness to their owners.
8. Protection
Nobody likes to mess with man's best friend. Having a dog alert you if someone's at the door, or letting you know if he hears a funny noise can be the best kind of protection.

Or Call 877-738-7237 to Add a Pet to Your Current Policy
9. Having a cute dog on a leash is a great way to encourage people to come say hello and introduce themselves!
Your pet may just give you that extra push you need to make a new (human) friend.
10. Puppy breath and puppy hiccups
Another thing I'm thankful for is puppy breath and little huccups. There is truly nothing sweeter.
11. Owners who take their pets in for routine care
As a vet, I'm very thankful for owners who bring their pets in for wellness check-ups. Bringing pets in at least once a year for a visit may help detect health problems before they become an even bigger problem. My dogs actually love going to the vet!
12. Pet insurance!
Of course one of the things I'm most thankful for as a vet is pet insurance! Companies like Pets Best Insurance help pet owners afford the best possible care and treatment options. Cat and dog insurance can often mean the difference between providing treatment to your pet, and the alternative no pet owner wants to think about. Get a free quote today! Your pet will be thankful you did.