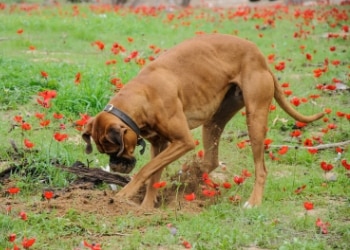 By Arden Moore, a certified dog and cat behaviorist with the International Association of Animal Behavior Consultants. Arden is an author, radio host, and writer for Pets Best Pet Insurance, a pet insurance agency for dogs and cats.
Dogs are not born with owner's manuals. Sometimes they have bad behaviors and they rely on us to teach them what is acceptable and what is not. Let's discuss dogs who love to dig in your garden and some solutions to help curb this behavior.
Problem Behavior – Digging in Your Garden. You pride yourself on your green-thumb talents to cultivate tasty tomatoes or beautiful begonias. But your dog thrives on being a furry rototiller by feverishly pawing churning up the soil, uprooting your garden goodies.
Solution: Make your garden less inviting to your dog by creating a "pepper pooch" solution. Mix two tablespoons of cayenne pepper and six drops of dishwashing soap in a gallon of water. Place this solution in a spray bottle and apply it to your plants. And compromise by devoting a portion of your backyard to satisfy your dog's gotta-dig tendencies. Buy an inexpensive plastic kiddy pool. Fill it with dirt and hide a few dog treats and toys and then call your dog over to play a fun treasure hunt game.
 Protect Your Pup with Pet Insurance!

Get a Quick, Free Quote Online
or Call Pets Best at 877-738-7237