The Pets Best Insurance guide to litter boxes
Posted on January 11, 2011 under Pet Health & Safety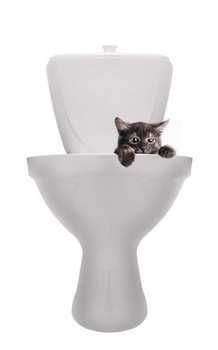 By: Alex Fascilla
For Pets Best Insurance
If you've seen the popular comedy Meet the Parents, you certainly remember Jinx, Jack Byrnes' beloved Himalayan cat. Why does Jinxy Cat stick out so firmly in our minds? Well, aside from Greg Focker's carelessly concocted plan featuring Jinx's impersonator with the spray-painted tail, we probably remember the same thing: Jinx was toilet trained!
But why would Jack Byrnes go to so much trouble to toilet train his cat? For the same reason we've all thought about it: to avoid the smell and unsightliness of a litter box.
Now, as just a partial stakeholder in my neighborhood's stray cat, I'm certainly not the expert on litter box obstruction. However, in a recent Pets Best Insurance Facebook poll, we asked, "Cat owners, how do you hide the look (and smell) of your indoor litter box?", and discovered some great answers. So, before you give puss the boot, review some of our best contributions below:
The top 5 ways to reduce litter box odor:
1. "Clean your litter box every day." – Jennifer, Pittsburg, KS
While it can be time consuming, cleaning it regularly might be the best way to prevent the odors and waste and keep an eye on pet health. Often, irregular bathroom habits can be the first sign of illness.
2. "Baking soda on the bottom of your litter box, kitty litter, another layer of baking soda, and litter again." – Danielle, Holly, MI
Quality cat litter and baking soda combine to form one powerful odor-destroying team!
3. "Febreze/air-freshen in between each usage. – Jesse, Temple, TX
Many air fresheners available today will trap airborne particles that contain odors and reduce them on contact.
4. "Cover your litter box with a lid." – Stacey, Newark, NJ
Covered litter boxes trap many of the odors that escape with open-air models. In fact, some manufacturers even include a lid with a built-in air filter!
5. "Place it in the bathroom or a laundry room, away from things like carpet or furniture that can absorb the smells." – Cherol, San Francisco, CA
Cherol makes a great point here. Carpet, furniture, pillows and curtains can all absorb cat odors. Be careful if you hang clothing in your laundry room, however. You don't want your clean clothes absorbing those smells!
Once odors are under control, the other thing cat-owners might worry about is the unsightliness of the litter box itself. Here are the top 5 ways to conceal a litter box:
1. "Place your litter box in a basement area." – Jennifer, Somers, CT
As long as your basement is low-traffic/single-purpose, this is a great way to obscure your cat's litter box. Remember, though, out of sight, out of mind: don't let your litter box become overfull as pet health can be negatively affected.
2. "Use a litter cabinet to disguise your litter box." – Teresa, city unknown
Many companies now make furniture specifically designed to hold litter boxes. Where visitors to your home might see an end table or small hutch; on the inside is kitty's toilet.
3."Build a 'cat house' that contains food, water, and a litter box all-in-one" –Shianne, city unknown
A similar idea as above, with the additional convenience of having all of your cat's needs centralized in one disguised place. This is also handy for pet owners with dogs as well, who may try to steal kitty's food or enjoy eating "kitty roca".
4. "Place your litter box outside." – Emily, Gary, IN
If hiding your cat's litter box in your home or apartment is just simply not an option, there is always the great outdoors. Consider installing a cat door that your cat can escape through so they aren't forced to rely solely on you—you'll be glad you did to avoid those midnight interruptions!
5. "Don't have one at all—toilet train your cat!" – Wesley, city unknown
Alright, you had to know that was coming! But it's true; it is possible to toilet train your kitty. All you need is quite a few weeks, lots of patience and a toilet that can be off-limits to humans during the training period. Perhaps we'll blog about it in further detail–or have Wesley–blog about it next time!
Add your ideas on our Facebook page, or learn more about Pets Best Insurance or cat insurance plans specifically.