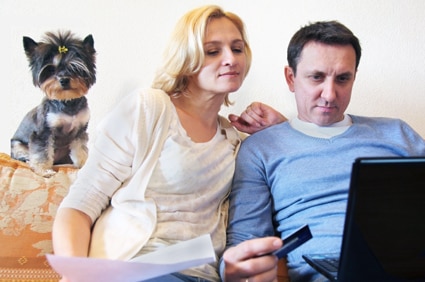 We often hear from pet owners who are considering switching to Pets Best Insurance from another pet insurance provider. We're always happy to welcome new dogs and cats into our family, and want to share the top 5 things we recommend you keep in mind when choosing a new pet insurance provider.
1. Check Out Their Customer Service
Take a few minutes to check out the provider's website and do a little investigation. Do they answer the phone quickly? Is it easy to find contact information, and do they offer a live chat option? As a customer, will you be able to manage your account online?
The way you're treated as a prospective customer speaks volumes about how you may be treated after the sale. Be sure you like the experience they offer, because it's a sneak peek at how your relationship will be with the provider throughout the life of your policy.
2. Understand How Your Reimbursement is Calculated
Veterinary fees can vary widely due to your pet's size and age, not to mention complications, severity, where you live and how your pet responds to treatments. In other words, when it comes to pet care, one size does not fit all. You want a predictable and reliable method of payment for your claims – ideally a flat percentage of your actual vet bill – and not a benefit schedule or fixed amount depending on the diagnosis or treatment option, which will usually reflect lower prices than what you were actually charged. Whether you choose a plan with 70%, 80%, 90% or even 100% reimbursement after a deductible, be sure that the reimbursement level is based on your actual vet bill.
3. Consider Your Pet's Health History
If your pet has a serious or chronic condition, before enrollment or when switching to another pet insurer, remember, pre-existing conditions typically will not be covered. If your pet has a chronic or existing condition, be sure to inquire about future coverage before enrolling.
Most plans, however, like Pets Best Insurance plans, will allow for "curable" pre- existing conditions (like a broken leg) to become eligible for coverage in the future. One minor or inexpensive medical condition for your pet shouldn't discourage you from enrolling or switching to a better pet insurance plan, since your pet will still likely be covered for future accidents and illnesses. Be careful, though, because some plans have extensive waiting periods, even for conditions Pets Best Insurance considers "curable".
4. Look for Fast Claim Payment
Choose a company that has a reputation for paying claims fairly and quickly. Your veterinarian or a friend who has pet insurance can be a good source.
Pets Best Insurance processes most claims within 5 business days, and current turnaround time is just 18 hours. You can mail, fax or email your claim, and we offer free direct deposit reimbursement.
5. Don't Fall for Perks You Don't Need
If a pet insurance plan is too robust with benefits you're not likely to need, you may be paying too much for coverage. And if the plan is too expensive, you may be tempted to drop it after awhile. (According to Murphy's Law, your pet is likely to face a problem soon after you drop coverage.)
Be realistic about whether you really need the benefits you're being sold – no pet owner needs a $1 million limit, for example. Ask your veterinarian or work with a knowledgeable sales representative if you need help figuring out just how much coverage you need, and which plan will be the best fit. If you're using an insurance agent, choose one on salary instead of commission. The latter may be inclined to sell you more coverage than you need.