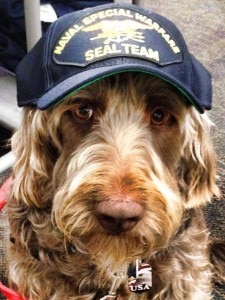 By Arden Moore, a dog and cat behavior expert and author of 26 best-selling pet books. She hosts the Oh Behave Show on Pet Life Radio and is a writer for Pets Best Pet Insurance, a dog insurance and cat insurance agency.
Lon Hodge is a Vietnam veteran who was paired with a service dog named Gander, a Labradoodle. Gander was rescued from a kill shelter and is a recipient of the American Kennel Club Humane Fund Award for Canine Excellence.
Hodge copes with autoimmune arthritis as well as Post Traumatic Stress Disorder and anxiety. Hodge said his world has changed for the better after being paired with Gander, who was trained by the Freedom Services Dogs of America. Together, they travel across the country to visit people at military hospitals, schools, pet expos, and other places.
"He [Gander] literally saved my life. My heart rate was 120 beats per minute average for two years…It is not about 80. I was having night terrors and panic attacks daily and had to take addicting medication to stop symptoms. Life is 100% better with Gander in it," says Hodge.
"Gander can brace and assist me for balance, open doors, pick up credit cards and alert me to noises that may cause me to become upset," says Hodge. "He has enhanced my life and for me, this was a match made in heaven."
Hodge kindly asks those who see him and Gander to not rush up and attempt to pet Gander when he is sporting his service vest.
"The best way to think of a service dog is that he is medical equipment," describes Hodge. "I know it is hard, especially for people who love dogs, to not pet Gander. But Gander is the same as a wheelchair or a cane or a crutch. You wouldn't ask, 'Hey, can I use your crutch?'"
Hodge enjoys teaching people about service dogs and welcomes interactions with Gander – when politely asked first and when it is safe to do so.
You can read more about Hodge and Gander's story at veterantraveler.com.
Read this article for tips on how to greet a working service dog.
 Protect Your Pup with Dog Insurance!

Get a Quick, Free Quote Online
or Call Pets Best at 877-738-7237
Photo of Gander from veterantraveler.com.