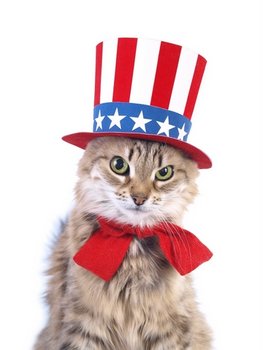 Happy Independence day! The fourth of July is a much anticipated time of fun, family and sun. Barbecues, parades and fireworks are sure to be included, encouraging the whole family to get out and celebrate. If you are like millions of Americans that consider your pets family, your four-legged best friend might be a part of the festivities. Here's how to keep your pet's health and safety in tact this July fourth.
1. Barbecue safety:
Who can resist those brown eyes as they plead for a bite of your steak? It can be tempting to feed your pet bits of your meal, but most veterinarians will agree that feeding meat and other rich 'people foods' to dogs and cats can be problematic.
Rich foods can cause pancreatitis, a dangerous condition causing inflammation of the pancreas that often requires hospitalization.
Bones, in general, should be avoided. Dogs can splinter off sharp shards that can cause intestinal irritation, or they can swallow the whole bone, which can cause a painful and dangerous obstruction. Occasionally this requires surgery to treat– which can be quite costly for pet owners without dog insurance.
If you really want to include your pet in the family meal, consider cooking a canine or kitty friendly 'barbecue.' Check out www.allrecipes.com for pet recipes you can try at home. Always prevent dogs from access to alcoholic beverages consumed on the Fourth. Many dogs like the taste of beer and cocktails, but ingestion can cause weakness, depression and even coma.
2. Firework Safety:
It just wouldn't be the fourth of July without a firework display! Fireworks are inherently dangerous, and pets often don't practice common sense, or understand the danger they pose.
If you have home fireworks that you and your family are going to enjoy, it is safest to confine your pet indoors and away from all fireworks. The local fourth of July firework display is also no place for dogs; the loud noises and masses of people can be terrifying for dogs. Try to refrain from including your pet and instead leave them in a quiet, escape-proof area in the home.
Be smart after your fireworks have been set off as well. The chemicals used in backyard fireworks can be harmful to your pet if ingested. Always clean up and don't allow dogs access to the firework debris or matches, which can contain chlorates that can damage blood cells, cause respiratory difficulty, and even damage kidneys. Lighter fluid can be a skin irritant and if ingested can cause GI upset.

Or Call 877-738-7237 to speak with a Pets Best Insurance Agent to Add a Pet to Your Current Policy
3. For the Anxious/ Loud Phobic Dog:
While the Fourth of July can be a blast for the rest of the family, there are many dogs who become terrified by the loud noises of fireworks. Noise phobia during this time is very common and can be quite severe.
If your dog becomes destructive to property, or to him- or herself during loud noises such as storms, medical intervention might be required during this July holiday. Never leave your dog unattended outside, even if the yard is fenced. Some pet insurance plans may even help to cover the costs of medications for issues like anxiety.
The ASPCA notes that the week of the fourth of July is one of the busiest weeks for animal control and is likely related to noise phobia and escaping.
Always consider microchipping your pet, which will allow him or her to identified without a collar if picked up by the pound.
Consider using a 'Thundershirt" (www.thundershirt.com) for anxious dogs, as a nice alternative to sedatives and anti-anxiety medication. Kenneling is a fantastic way to help a dog feel safe, protect your property and prevent escape. Kennel training needs to happen prior to a scary event; the Fourth of July or a day of thunderstorms are not good times to introduce kenneling.
If your pet is scared, consider turning on the TV or radio for ambient noise and lowering the blinds and dimming lights. If his or her anxiety is severe contact your veterinarian for additional tips or even medication.
With a little foresight and common sense, you can turn this patriotic day into pet friendly family time as well. Happy July Fourth!
For more information about pet health and behavior, or to learn more about animal insurance visit Pets Best Insurance today!