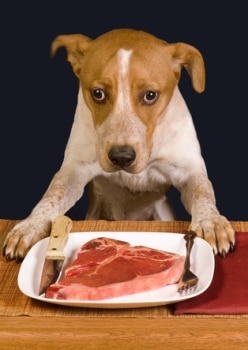 At Pets Best Insurance we want your pet to live a long, happy and healthy life. Part of a healthy dog and cat is finding the diet that is right for them. With so much discussion over raw diets versus non-raw diets, we asked the folks at All The Best Pet Care in Seattle, to give us their opinion on the pros and cons of raw diets. We are not promoting either side; rather we simply want to educate pet owners so they can make the best decision for their dog or cat.
Pros of raw diets:
1. Less processed ingredients
Can help build the immune system and provide a healthy skin and coat
2. Greatest preservation of naturally-occurring nutrients
Minimal processing preserves the molecular structure of the proteins, fats, vitamins and enzymes.
3. Less stinky stools and less litter box odor
Pets that are fed a raw food diet consistently have smaller, firmer stools that those fed canned or dry food.
Cons of raw diets:
1. Raw often more expensive on a 'per feeding' basis.
Ready to serve, complete raw meals may cost more, but you can minimize costs by making raw meals from recipes at home.
2. Processed food has a longer shelf life than raw.
Kibble may last as long as a month after the bag is opened, but thawed raw food should be refrigerated and used within a few days.
3. Raw not as convenient as conventional food.
However, there are freeze dried and frozen raw meals available to make it more convenient.
4. May be a source of bacteria for susceptible animals.
Healthy dogs and cats bodies' are equipped to deal with the bacteria in raw meats, but pets with depressed or compromised immune systems may not be good candidates for raw food.
If you have more questions on raw diets or other diet options for your dog or cat, contact All the Best Pet Care at www.allthebestpetcare.com or if you're in the Seattle area, visit one of their locations.
What's another way you can help your pet live a long, happy life? Make sure you can afford the veterinarian care they need when accidents and illnesses occur; get pet insurance! At Pets Best Insurance we reimburse off your vet bill. Visit www.petsbest.com for a free quote.