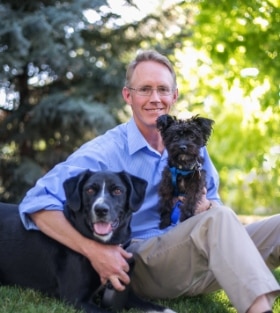 BOISE, Idaho – Chris Middleton, President of Pets Best Insurance Services LLC, has been appointed to the executive committee of the North American Pet Health Insurance Association board of directors.
Middleton will serve as secretary of the executive committee – the decision-making core of the board of directors, according to NAPHIA executive director Kristen Lynch.
"We look for people who have a good overall grasp of the industry and understanding of the many opportunities and challenges facing us," Lynch said. "Chris has in-depth insights into many aspects of the business due to his diverse background and years of increased responsibility and leadership within Pets Best."
Middleton had replaced Pets Best co-founder and pet insurance pioneer Dr. Jack L. Stephens as the Pets Best representative on the NAPHIA board. He will work with other pet insurance professionals to help fulfill NAPHIA's mission of growing and aiding the industry with various research and outreach efforts.
"I am honored to be given this opportunity to serve," Middleton said. "By working together to grow our industry, the members of NAPHIA are able to spread the positive effects of pet insurance to a much broader audience. And that puts us closer and closer to our goal of ending economic euthanasia."
Economic euthanasia is the practice of ending a pet's life because owners cannot pay for needed veterinary treatment.
NAPHIA creates a neutral environment that allows a competitive industry to promote the benefits and universal value of pet health insurance, as opposed to a single brand or product, Lynch said. There is a 100 percent industry participation rate in the organization.
Middleton joined Pets Best in 2010 as a marketing director after spending 18 years in the technology field at Hewlett Packard. He was named president of Pets Best in 2014. He holds a Masters in Business Administration from the University of Oregon.
Accompanying Middleton into the office every day are his two dogs, Attie and Otto.
About Pets Best Insurance Services, LLC
Dr. Jack L. Stephens, founder and director of Pets Best, founded pet insurance in the U.S. in 1981 with a mission to end euthanasia when pet owners couldn't afford veterinary treatment. Dr. Stephens went on to present the first U.S. pet insurance policy to famous television dog Lassie. Pets Best provides coverage for dogs and cats. Dr. Stephens leads the Pets Best team with his passion for quality pet care and his expert veterinary knowledge. He is always available to answer questions regarding veterinary medicine, pet health and pet insurance. The Pets Best team is a group of pet lovers who strive to deliver quality customer service and value. Visit www.petsbest.com for more information.
Pet insurance coverage offered and administered by Pets Best Insurance Services, LLC is underwritten by Independence American Insurance Company, a Delaware insurance company. Independence American Insurance Company is a member of The IHC Group, an organization of insurance carriers and marketing and administrative affiliates that has been providing life, health, disability, medical stop-loss and specialty insurance solutions to groups and individuals for over 30 years. For information on The IHC Group, visit: www.ihcgroup.com. Additional insurance services administered by Pets Best Insurance Services, LLC are underwritten by Prime Insurance Company. Each insurer has sole financial responsibility for its own products.
Pets Best is a proud member of the North American Pet Health Insurance Association (NAPHIA).
###