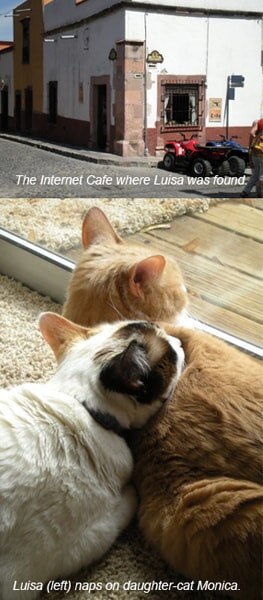 By: Chryssa Rich
For Pets Best Insurance
If you're traveling internationally and want to adopt a pet, make sure you do your homework so it all goes smoothly. A little time and effort will help you bring home the best souvenir ever! Here's my story.
It was September 16th in San Miguel de Allende, and the city was absolutely chaotic with Dia de la Independencia celebrations and preparations for the Running of the Bulls. I walked the decorated cobblestone streets to my job at a New Orleans-style restaurant, but when I got there, realized I had arrived for the wrong shift.
To kill time, I headed to an Internet café two blocks from home. The woman behind the counter had a fluffy white kitten in each hand, and she explained they'd been found on the street and didn't belong to anyone. Over the next 10 seconds, my thoughts went like this… "I wonder if I'm still allergic to cats? I think white cats are less likely to cause an allergic reaction. Delta had pet tickets for $80, funny, but I could take her back to the states with me. She looks part Siamese, so I bet she's smart."
I pointed to the kitten that looked female, and asked in Spanish "Can I have it?" She said "sure" and handed it to me. I then asked "Is it a girl?" and she giggled, because in Mexico they have special gender words for animals, macho and hembra, so I had basically asked her if the kitten was a human girl. Either way, she wasn't sure.
A pet shop owner confirmed kitty was hembra, and the next day I flipped though a Spanish magazine and found the name "Luisa". I was so afraid I'd be allergic, I tried to make her sleep in a small box at the foot of my bed. But every night she'd dig into the bed covers with her little nails and climb up to curl up behind my knees, where she still sleeps today.
Almost a year went by, and I wasn't able to get Luisa spayed because it was too expensive. Even though I earned pesos, I was American and therefore presumed wealthy. Vets wanted to charge me US$300 – $500. Luisa was an indoor cat and in heat for the third time. Her caterwauling was so bad, I had to sleep at friend's houses. Despite feeling guilty about adding more cats to this world, I figured the only solution was to let her get pregnant. One night I waited for her boyfriend to appear – a giant orange tomcat with no tail – and let her out to play. Luisa ate an entire bowl of food the next morning and slept for 12 hours.
A few weeks later I decided it was time to head back to the United States. Luisa needed proof of rabies vaccination, a bill of good health from a vet and one of those $80 airline tickets to return home with me. The well-cat checkup only took a few minutes – the vet simply checked for signs of illness or infection.
I had a special harness so Luisa could walk around in the airport (and pee in the fake soil of a decorative plant) and we got through Customs no problem. One security guard was supposed to remove her from her airline-approved pet carrier and check the lining of the bag, but didn't because "Last time I tried that, I got scratched." They didn't notice she was pregnant, and I'm not sure if that would have affected anything. There is some evidence that stress can trigger pre-term labor in pets, but I preferred to take that risk over leaving my beautiful kitty with strangers in Mexico.
Luisa's five kittens were born in Boise, Idaho the morning of her due date, September 23rd, 2003. Two kittens didn't survive, but I was happy to keep one myself and adopted the others out. I had both cats spayed as soon as possible.
Today, Luisa and her daughter Monica are 8 and 7 years old. They have moved with me countless times, including cross-country twice. I've never been allergic to either of them; interestingly, I was allergic to the black calico kitten. Luisa still plays with her stuffed hippo, and Monica is a spitting image of her father, except that ironically, she has an extra-long tail.